There are many solo ad vendors to choose from, but not all of them are created equal. So how do you know which ones are the best? Here is a list of the top solo ad vendors, based on their results and feedback from clients.
When looking for a solo ad vendor, it's important to consider not only the quality of the leads they provide, but also their customer service and support. The best vendors will go above and beyond to make sure their clients are happy and successful.
My favorite top 4 solo ad agencies
Traffic Authority is a company that sells premium website traffic. They provide this traffic in much the same way as traditional solo ads are done. As their traffic is delivered through email marketing, and sold by the click, email traffic is vital for online marketing because it gives fast exposure for your offers.
Their website traffic is delivered from 100% English-speaking countries, and businesses, entrepreneurs, network marketers and affiliate marketers come to them when they are in need of leads and customers for their offers.
Traffic Authority has a very simple business model.
They buy traffic in bulk from some of the best sources, then mark it up and sell it to their customers at a profit.
This allows them to provide their customers with quality traffic at a much lower price than they would be able to get on their own.
It is important to note that Traffic Authority is not a traffic exchange or a MLM company. They are simply a middleman between the customer and the traffic source.
What this means for you is that you can be sure that the traffic you are getting is of high quality and will convert well for your offers.
We have been very impressed with the quality of traffic from Traffic Authority and we are confident that you will be too.
If you are looking for a quality solo ad vendor, we highly recommend traffic authority.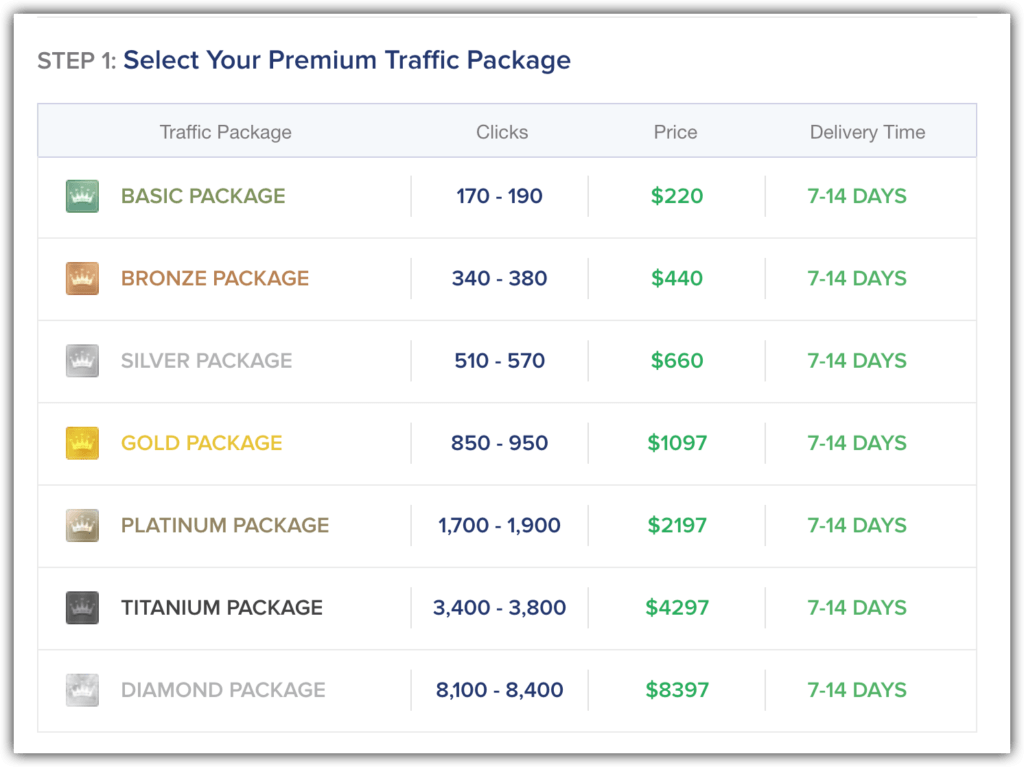 TrafficForMe.com is a solo ads broker that enables website owners and advertisers to buy traffic via email advertising. The company was founded by Harris Fellman and they're currently located at 4080 Paradise Rd., #15-357, Las Vegas, NV 89169.
As a buyer, TrafficForMe enables you to buy solo ad traffic based on your niche. So once you sign up, you can start building your campaign right away.
With TrafficForMe, the more clicks you order, the cheaper it will be for you. Your cost will also vary depending on your niche, location, frequency and the quality of traffic you need.
Premium Email Traffic costs anywhere between $0.58 and $0.97 per click depending on quantity. 100% USA Email Traffic costs anywhere between $0.75 and $0.89 per click depending on quantity, frequency and billing mode. Starter packages cost anywhere between $0.77 and $0.87 per click depending on frequency of delivery, quantity and billing mode.
TrafficForMe is definitely worthwhile, if you're in the make money niche and have money to spend on buying these ads. They do offer some pretty attractive guarantees including high quality traffic, 85% location accuracy and so on.
If you're a first time buyer or have never bought traffic before, TrafficForMe also offers a great "Traffic Academy" which is essentially a video course that teaches you how to buy traffic, create successful campaigns and more. You can access it once you sign up for a free account.
Udimi is the best place to find solo ad vendors, with a wide variety of sellers in every niche. It also offers helpful features like landing pages and ad copy writing, which can save you time and money.
Udimi is also easy to use for beginners. You can search for vendors, read genuine reviews, ask sellers in live chat questions, and run solo ad campaigns all from one dashboard.
However, there are some downsides to Udimi. Clicks are capped at 1,000, and you can only buy solo email ads. Additionally, Udimi's traffic can't be scaled compared to other ad networks.
If you're wondering whether or not to try Udimi, my recommendation is to go for it. Udimi is a great place to buy solo ad clicks without being scammed or receiving low-quality visitors.
MLMLeads.com is a great source for fresh, pre-qualified MLM leads and leads for other industries. They vet and filter their traffic to make sure they are only sending buyers to your offers. This allows you the best chance to convert them into customers. MLM leads has been around for over 10 years and is a reliable company with a reputation that has stood the test of time.
Their solo ad traffic package prices range from .88 cents a click on up to 1.18 clicks, all depending upon the size of the traffic package bought. MLM leads is a great company to buy traffic from because they have their own leads list that they pull their traffic from. This means that the traffic you buy from them is highly targeted and price-fair.
We've spent money with MLM leads and seen a return on investment every time.
FURTHER READING:
Buy Solo Ads: The Why, Where & How [2022 Update]
How do solo ads work? Do solo ads work in 2022?
Solo Ads Profit: 5 Tips to Make Solo Ads Work

Solo Ad Vendor Selection Criteria
When looking for a solo ad seller, there are a few factors you need to consider. Not all sellers are created equal, and some will be a better fit for your business than others. Here are the key criteria to look for when selecting a solo ad seller:
1. Reputation: The best way to judge a solo ad seller is by their reputation. Look for sellers with a long history of satisfied customers.
2. Quality of Ads: Another important factor is the quality of the ads themselves. Look for sellers who have a high conversion rate and generate a lot of leads.
3. Pricing: Solo ad prices can vary widely, so it's important to find a seller who offers a good value. Look for sellers who offer a high conversion rate and a low cost per click.
4. Support: It's important to select a seller who offers good support. Look for sellers with a strong customer service team who can help you with any questions or problems you may have.
When choosing a solo ad seller, it's important to consider all of these factors. By taking the time to find a seller who meets all of your criteria, you'll be sure to get the best results for your business.
FURTHER READING:
Solo Ads for Beginners
[Guide] Solo Ads for Affiliate Marketing in 2022
Solo Ads vs Google Ads vs Facebook Ads

How to choose solo ad seller on Udimi
To find the best solo ad vendors on Udimi, here are the following steps:
Step 1. Login to your Udimi account and click on the Find Sellers tab.
Step 2. Set the right filters.
Change "Got sales" to 50%. 
Set "Ratings" to 500+.
Modify the Seller's language to English.
Set "Main traffic source" to Top tier countries. 
You will see all the available sellers on Udimi who match this criteria.
Step 3. Take your pick from a list of high quality vendors.
Here's my recommended list of solo ad vendors on Udimi.
Two other solo ad sellers worthy of mention:
Wayne Crowe has over 10 years of experience in the field of online marketing and has a proven track record of success. Wayne is known to look for new and innovative ways to generate traffic and convert it into sales, and uses a variety of traffic sources.
He also makes use of the latest bot prevention and detection methods, as well as list-cleaning services, strategies and software. As a result, he assures at least 85% of the traffic from so-called tier 1 countries—including the USA, Canada, UK, New Zealand and Australia. These are all rich, English-speaking countries with a high potential for sales.
For more, check out his website.
FURTHER READING: Where to buy solo ad traffic?
Jaszdeep Singh Jandu is a solo ad expert and traffic provider based out of London. He offers world-class customer service and the best email advertising. His methods and techniques are different from those used by most in the industry, and as a result, his returns are consistently different.
The cost for premium tier 1 traffic starts at just $1 per click, and can be reduced further the more clicks you purchase. You can also get as low as one hundred clicks for just $1, with the highest amount being 5,000 clicks at .80 per click. If you ask me, Jaszdeep Singh Jandu is the best Solo Ads vendor on this planet!
You can read the details here.