Freedom Breakthrough 2.0… is it worth your money? After all, it costs $1,497!
Good question.
The answer is…
Freedom Breakthrough 2.0 is, in my humble opinion, one of the best affiliate marketing courses in the market that teaches you how to make a full-time living online and leave your day job.
Jonathan Montoya talks about earning $1,000 per day in his training… sound too much? Well, it's not. In this training, he lists out the EXACT proven tips and strategies that are actually working for his students and himself.
Not "fluff and theory" like most other courses by the so-called gurus—a well-rounded easy-to-implement training that teaches you, module to module, to find the best offers on the internet and promote them as an affiliate without spending a dime on paid ads (especially when you are starting out in this business).
MY RATING: 5 out of 5 stars
But that's not enough information, I know.
So, I will try to answer all your questions about the course in this article. Once you go through all of them, you will be able to make your own decision…whether to get this or not.
Join Freedom Breakthrough 2.0 Today
Freedom Breakthrough Overview
Product: Freedom Breakthrough 2.0
Type: Affiliate Marketing Course
Content: 100+ on-demand video lessons covering all aspects of affiliate marketing (watch it as per your convenience)
Price: $1,497 one time or $597 three times
Vendor: Jonathan Montoya
Money-Back Guarantee: 14-days action-based
My Recommendation: Go for it if you have a budget and do not want a get-rich-quick scheme
Freedom Breakthrough essentially trains you in the affiliate marketing business and proposes a unique affiliate stacking ecosystem… where you not only promote multiple offers to the same prospect but also earn recurring commissions time after time.
The program is created by Jonathan Montoya who studied mechanical engineering and was a corporate slave before he decided to take the plunge 2 years ago. It took him nine months to reach five figures per month and leave his cushy yet soul-sucking day job.
This training is all about that—the niche he went for, the offers he chose, the traffic sources he used, and EVERYTHING that goes in between. 100% updated, fresh and actionable!
There are twelve modules with 100+ on-demand video lessons that goes through ALL parts of the affiliate marketing process. If you are a complete beginner, you start at the first video and… by the time you are done, you are fully ready to take on the world and start making money right off the bat.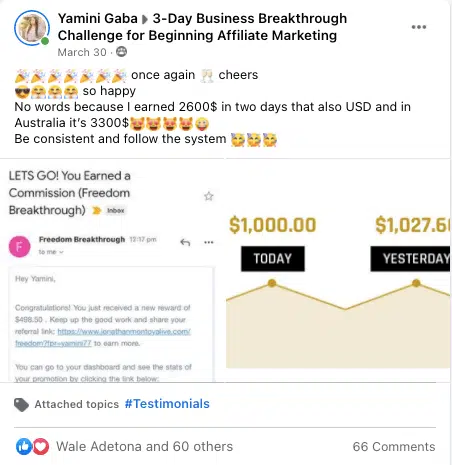 How does Freedom Breakthrough 2.0 work?
The first thing you need to understand about Freedom Breakthrough is that it is totally based on affiliate marketing business model.
The main idea is to promote other people's products via websites and funnels and earn commissions on every sales referral.
It can be a digital or a physical product.
It can be one-time or a recurring payment product.
It can be ANYTHING as long as the offer sells well and makes you money (that's how I see it).
Step 1 – Find the right niche
A niche is a subset of a market with specific needs and goals to a common problem. You can also call it a "target audience".
And this is a sticking point for most beginners in affiliate marketing.
They choose the offers when they don't even know who their audience is. Jonathan takes you by the hand to help you reveal your niche based on your interest.
So, you love what you do—amazing, right?
Step 2. Set up a marketing and sales funnel.
Funnels, funnels, and funnels.
Isn't that what you hear almost every day…on Facebook, YouTube and everywhere else.
Guess what, a funnel separates a successful marketer from an unsuccessful one. As an affiliate marketer, you need a high-converting funnel that can turn clicks into dollars consistently…even while you sleep.
This is a BIG part of this Jonathan's training Freedom Breakthrough 2.0.
Step 3. Drive traffic to the funnel
Now comes the last step of the process.
You have chosen the niche and the offer. You have built a failproof funnel to collect leads and drive them towards a sale.
However, unless you drive new "eyeballs" to the funnel, nothing is going to happen.
That's why you need to drive traffic to it. How you do it… depends on you.
Want to learn how Jonathan did it? Take a look inside Freedom Breakthrough 2.0 training now.
Join Freedom Breakthrough 2.0 Today
What's inside Freedom Breakthrough 2.0?
So, you understood the essential formula of Freedom Breakthrough above. But what's actually inside the course, you ask?
The course contains 12 modules that cover various aspects of high-ticket affiliate marketing, with or without paid advertising.
In the Intro module, you will get to know what affiliate marketing is, and how it works. Jonathan will tell you his story as well and what you can expect from the training.
Don't miss this module because it is IMPORTANT!
Module 1. The Affiliate Stacking Ecosystem
For high-ticket affiliate marketing, you need to understand the process from a bird's eye point of view. You will get to know how to choose a niche (extremely important!)… to finding high-converting offers… to building a whole stack of 'em for maximum profits.
In this training, you will learn how to set this business up for the long term, as opposed to most affiliate marketing courses out there.
This module contains 5 videos as follows:
Video 1: How to Affiliate Stacking Ecosystem works
Video 2: In-depth example of Affiliate Stacking Ecosystem
Video 3: How to pick extremely high paying niche
Video 4: Picking the main core offer
Video 5: Finding Support offers For the Affiliate Stacking Ecosystem
Module 2. The Perfect Affiliate Funnel
In this module, you will learn how to create a high-converting funnel to capture your leads and guide them through their buyer's journey.
You will learn how a perfect affiliate funnel looks, what a good lead magnet does, what bridge pages you need to use, how to create funnels super-fast… and so on.
He will also provide you with a few done-for-you funnels to get started right away. Just sign up to Click Funnels (or any landing page software) and you are done.
This module contains 9 videos inside:
Video 1: What is the perfect affiliate funnel?
Video 2: What is the lead magnet and why do we need it
Video 3: How to create the lead magnet
Video 4: Which Landing page software to use
Video 5: Create the perfect Bridge Page
Video 6: DFY 6 Figure Funnels and Lead Magnets
Video 7: Signing up for ClickFunnels live
Video 8: Creating effective Opt-in Affiliate Funnels fast
Video 9: Creating extremely High Converting Funnel Pages (50%+ option)
Module 3. The Online ATM Machine (i.e. Email Marketing)
If you have never done email marketing, pay attention to this module. Jonathan teaches you how to set up your autoresponder, integrating it with the funnel software, setting up a professional email and how to write an email that sells.
From basic to advanced, this module shows you how to leash the power of emails in your high-ticket affiliate marketing business.
You'll get 12 videos inside this module:
Video 1: Intro: How does email marketing prints money?
Video 2: Email Marketing Definition
Video 3: Signing up for GetResponse
Video 4: How to Integrate ClickFunnels with GetResponse
Video 5: Setting up a professional domain email address
Video 6: Adding Your Professional Email to GetResponse
Video 7: The Secret Sauce (6 Figure Email Sequence That Works)
Video 8: Get Your Email Written for you
Video 9: How to Automate Emails Live Build and Integration
Video 10: How to Send Broadcast email to your list
Video 11: Staying Out of Spam and Increase Open Rates
Video 12: What Now?
Module 4. YouTube
Video marketing is all the rage nowadays.
And when it comes to high ticket selling, videos compound the power of persuasion 10 times more!
Also, if you already don't know, Jonathan Montoya got his start in YouTube only. Talk about getting advice from the horse's mouth, right?
He will teach you how to drive unlimited traffic from regular videos and shorts. Starting from how to source content ideas to creating engaging video content to ranking them on YouTube… you will get to know it all.
This module includes 13 videos:
Video 1: YouTube Setup Walkthrough
Video 2: The YouTube Ecosystem
Video 3: How to Guarantee Your Growth on YouTube (The 3 Phases)
Video 4: Growing on YouTube from 0 (This Works Every Time)
Video 5: How to Optimize the Video to Rank at the Top
Video 6: Automate the Optimization Process
Video 7: Key Metrics to Grow on YouTube
Video 8: Watch Time and Perfect YouTube Script
Video 9: Click Through Rate and The Perfect Thumbnail
Video 10: First 24 Hours Velocity Tricks
Video 11: YouTube Analytics Tricks
Video 12: The YouTube Golden Keywords Guaranteed to Rank
Video 13: YouTube Shorts
Module 5. TikTok
When you are already creating shorts for your YouTube channel above, why not for your TikTok channel too?
Short-form video consumption is increasing each year exponentially. Do you know that short-form video ad revenue is predicted to exceed $10 billion by 2022? The opportunity is HUGE!
TikTok is the undisputed leader when it comes to short-form video content. With over a billion users, the organic reach for your content is unprecedented.
And this module will help you ride the wave.
You'll get 12 videos inside this module:
Video 1: The Big Picture (Really Important)
Video 2: Using TikTok to Blow Up our Business
Video 3: Downloading and Setting up the TikTok app
Video 4: Optimizing Your Bio and Adding Social Media Handles
Video 5: Content Ideas – How to Guarantee Growth on TikTok
Video 6: How Much Should I Post on TikTok
Video 7: Editing Videos & Batch Filming
Video 8: TikTok Algorithm Revealed
Video 9: How We Will Use TikTok to Get Leads and Sales
Video 10:  Create 12 Videos in An Hour
Video 11: TikTok Live Secrets
Video 12: Stiches, Duets, Comment Replays
Module 6. Facebook Groups
It is rather sad that most beginners do not have a big marketing budget but… they ignore one of the biggest sources of free traffic on the internet!
I am talking about Facebook groups. The audience is targeted. The interaction is great. Befriend them, talk with them, and close them. See how simple it is.
Well, maybe not so simple as it sounded.
This module will help you with building your trust and authority through Facebook groups in just 30 minutes per day.
The following 10 videos are included in this module:
Video 1: Intro to Facebook Groups
Video 2: How to Create the Facebook Group (Key Elements)
Video 3: Growing From 0 to 1000 using a Facebook Profile
Video 4: Grow Fast using a Lead Magnet
Video 5: How to Use the Algorithm to Your Advantage
Video 6: How to Write Super Engaging Posts
Video 7: How to Save Time Not Replying Back
Video 8: Use This to Get Social Media Posts Written for You
Video 9: Numbers are KEY
Video 10: The Big Vision
Module 7. Daniel Chou's High Ticket Sales
Daniel Chou has become quite famous for closing high ticket affiliate sales through his unique 4-step funnel system. He claims that his funnel increases the conversion rate of the leads to 50+%!
Amazing, right?
In this module, he talks about:
How to get high quality leads consistently day in and day out without any paid methods
His interesting "Bait & Switch" method where he hooks his audience with something and then switches to something else…
The REAL secret to getting sales without doing cold DMs ever
I find this module highly motivating… in the sense that Daniel shows that you can make it big focusing on simple stuff first.
Module 8. Joshua Ong's Facebook Profile Funnel
Again, another high-earning affiliate marketer who shows you that you can do it without wasting your money on useless tactics and methods (as those other gurus talk about).
What Ong suggests is turning your Facebook profile into a super funnel that generates leads and sales on autopilot!
Can you seriously get $1000+ sales by chatting someone up on the Facebook Messenger? Ong says, you can.
This module comes with 20 videos:
Video 1: Introduction to Joshua Ong
Video 2: Intro
Video 3: Psychology & Mindset of Success with Facebook
Video 4: Success Cycle
Video 5: The Power of Momentum
Video 6: Branding You Inc – Profile Setting & Funnel Set Up
Video 7:  Deleting Inactive Friends or not target audience
Video 8: Adding Your Ideal Client
Video 9: Daily Method of Operation
Video 10: Limitless Content Strategy
Video 11: Content Strategy
Video 12: The Value Framework
Video 13: Engagements Algorithm
Video 14: Facebook Posting Strategy
Video 15: The Power of Facebook Stories
Video 16: High Intention, Low Attachment
Video 17: Lead Generation with Facebook Groups
Video 18: Outbound strategy
Video 19: Follow up Strategy
Video 20: 5 Pillars to Close High Ticket Sales on FB Messenger
Module 9. Create a Website for Blogging
Not many are comfortable sitting in front of a camera right away. While faceless videos are an option, what if you don't want to record a video even? Then you can simply start blogging. Blogging in 2022? Does it even work?
Let me tell you. It works pretty well, my friend!
However, you need to know how to best create a blog that matches your niche and has the potential for affiliate sales.
This module has got 15 videos:
Video 1: Website Asset Intro
Video 2: Find Your Domain
Video 3: Start Your Website and Lockdown Your Domain
Video 4: Backend Tour of Your Website
Video 5: Deleting Slow Plugins
Video 6: Installing Essential Plugins
Video 7: Installing WordPress Theme
Video 8: Creating A Blog Post
Video 9: Creating A Category
Video 10: Adding Legal Pages
Video 11: Adding Menus
Video 12: Creating The About Page
Video 13: What Are Widgets
Video 14: Creating Email Forms & Popup Forms
Video 15: Website is Done, Now What?
Module 10. Nathan Lucas – Google SEO Mastery
You created the website in the above module. Good but that's not all. How do you coerce Google to send organic traffic to your website? It's a bit of a technical topic!
Nathan Lucas, a seven-figure super affiliate blogger, is here to help you with his knowledge and expertise.
This module includes 12 videos:
Video 1: Intro to Nathan
Video 2: Why Blogging? Stats
Video 3: Understanding Search Results
Video 4: Search Traffic Buyer Intent
Video 5: Search Traffic Informative Intent
Video 6: Find the Best Keywords & Siphon Traffic From Your Competitors
Video 7: Generate Endless Topic Ideas
Video 8: Crafting the Perfect Blog Post
Video 9: SEO Keywords to Include LSI
Video 10: Generate Leads from Your Blog
Video 11: Automate & Outsource Your Blog
Video 12: On-Page SEO
What if you don't want to invest your time and energy, rather take the quicker and easier paid traffic route?
Jonathan Montoya leaves nothing uncovered in this training.
Module 11. Google Ads
If you are interested in paid advertising, this is the MOST important training you will ever take. Take it from me, Google and YouTube Ads is extremely tricky and immensely tough to figure out as a beginner.
Don't have a mentor? Get ready to shell out thousands of bucks merely to understand how it works.
Jonathan shares the strategies he personally uses to get a 5x return on his investment in Google Ads—where he puts in $1 and gets back $5.
This module contains 11 videos:
Video 1: Intro to Google Ads
Video 2: Installing the Google Ad Pixel
Video 3: Keyword Research (Plan for Success)
Video 4: How to Run a Search Campaign Ad
Video 5: How to Run Retargeting Ads on Google
Video 6: How to Run YouTube Ads
Video 7: YouTube Ad Custom Placements
Video 8: Creating Custom Audience to Retarget
Video 9: Analysing the Data in Google Ads
Video 10: Scaling Your Google Ads
Video 11: Copy My Exact Ads Safe Landing Page
Module 12. Launch Jacking
If you are a follower of Jono Armstrong, you know what it is. He practically popularized this concept and Jonathan just took it one step forward.
You don't need a big email list. You don't need to have hundreds of followers on YouTube. You can literally start today and earn a few hundred dollars breaking no sweat at all.
This module contains 8 videos:
Video 1: Launch Jacking Intro
Video 2: How It Works & How Much You Can Make
Video 3: Common Questions & Concerns I Get
Video 4: How to Get an Article on Your Website
Video 5: Getting Articles Written for You
Video 6: How to Force Google to Show (Index) Your Site
Video 7: Advanced – Creating Bonuses
Video 8: Launch Jacking with YouTube
Freedom Breakthrough 2.0 Pros and Cons
Not all program is for everyone. So, the Freedom Breakthrough is legit, but it sure comes with its own merits and demerits. (Disclaimer: this is based on my personal opinion.)
The FIRST thing you need to understand is, affiliate marketing and making money online is not suitable for most people.
Why?
One, it is a "business" and not everybody is ready to treat it like one.
Two, it is not a get rich quick scheme. So, it's better not to expect that this is going to make you money in under 24 hours or without you putting in the "work".
That said, here are the pros and cons of the Freedom Breakthrough training.
[+] Jam-packed with proven tactics and strategies
Most programs out there are usually filled with a lot of theoretical advice—even when the coaches never really tried them out themselves. They learnt it from someone else, and they created a course on what they learnt. Not the right way to become an "expert" on something I believe.
Inside Freedom Breakthrough, you are actually taking a peek into Jonathan's way of operating an affiliate marketing business. He is going to teach you what gives him the best results in his own business.
The different strategies and tactics are laid in a segmented, easy-to-digest format that helps you follow the whole process step by step and study only what is required without getting overwhelmed.
[+] Great for beginners
If you are an advanced marketer, Freedom Breakthrough is not for you.
This is specifically aimed at beginners… who do not have any knowledge of what affiliate marketing is or how to use YouTube to get regular commissions.
How good is Freedom Breakthrough for beginners? Well, Yamini Gaba started with Montoya's course and started earning $1000 days within a month or so.
If you already have an established YouTube channel or are already making $500-$1000 per day, you probably don't need this course.
However, if you are interested in high ticket affiliate marketing or are struggling at making money online, this might be your ticket to freedom.
[+] Training by Experts
The good thing about this training is that Jonathan Montoya, like in some other courses, does not claim to be the expert at everything. He is great at YouTube, email marketing and funnels. So, this course contains modules on these by him.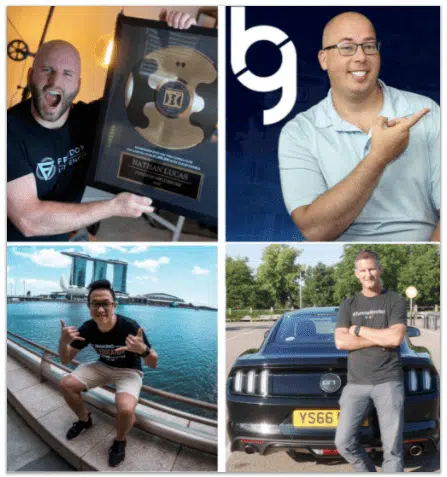 The rest of the modules are by the likes of:
Nathan Lucas (Google SEO expert)
Alex Branning (agency expert)
Joshua Ong (Facebook expert)
Paul Mottley (ClickFunnels dream car winner)
These are all legit experts in their respective niches, and you will definitely learn a ton from them.
[-] Costs a Lot (Especially for a Beginner)
The only cons that I find with this course (and probably any other program like this) is the explicit and implied financial costs. What am I speaking about?
Okay, first off, this course costs a whopping $1,497 (or 3 payments of $597). If you are struggling to pay your bills and are looking to make money online—and someone asks you to pay one and a half grand to learn it—not many will be able to afford it, especially as a beginner.
Then again, I believe, if someone invests that amount in his or her education, that person is extremely motivated to make it work. Perhaps, that was the reason behind the pricing of Freedom Breakthrough.
Again, do not think that just because you paid the course fee, you don't have any other extra costs.
You have to subscribe to a funnel software (like Systeme), an email marketing platform (like GetResponse), buy domain and hosting (like InterServer), and a bunch of other services to get the system up and working.
You will probably need to set aside another $15 to $297 per month for this.
As you can understand, all this will stack up pretty fast. And for a beginner, it can be a little overwhelming and scary.
Then again, as I said, this is a business. So you need to treat it like one.
Who is Jonathan Montoya?
Jonathan Montoya is a 7-figure affiliate marketer, famous for leaving his 9-to-5 mechanical engineering job three years ago—paying him $80k per annum—and started earning over five figure income per month within two years.
After his immense success, he came up with the Freedom Breakthrough program that is getting rave reviews from its members.
He still runs his free YouTube channel Passive Income Lifestyles and has also been indulging in crypto in the recent times. This guy, just like us, has been dabbling with various make money online methods. And he succeeded.
If you are struggling to make money online, it might be best to take help from someone who started like you and has already been able to achieve what you want from life.
Jonathan Montoya is the real deal in my opinion.
Join Freedom Breakthrough 2.0 Today
How much does Freedom Breakthrough 2.0 cost?
Freedom Breakthrough 2.0 full course costs $1,497 paid all at once and $597 in 3 instalments.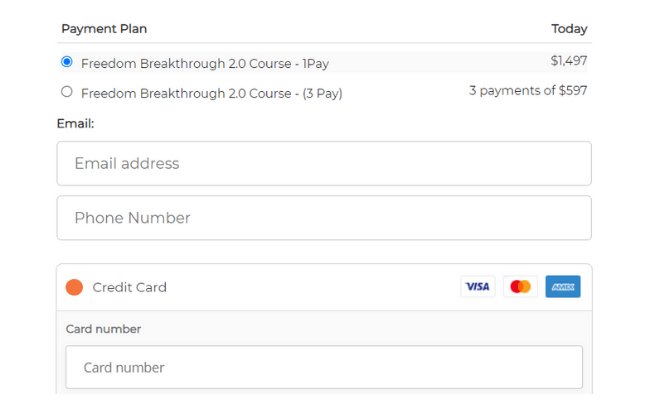 It comes with a 14-days action-based money back guarantee, which means you can ask for a refund by the 14th day of your purchase. (You have to show that you have invested the necessary effort though.)
As I mentioned earlier, this might be a problem for many. For those, why not take the 3-day freedom breakthrough challenge first… and see if you like it?
3-Day Freedom Breakthrough Challenge
For those who are not sure if they want to get the Freedom Breakthrough 2.0 training, it is better to go for the 3-Day Freedom Breakthrough Challenge (or as earlier called, the 3-Day Business Breakthrough Challenge) instead.
This is a 3-day video training that acts as a crash course for the full Freedom Breakthrough program. It is aimed to help you understand the top strategies and tactics used to earn high ticket affiliate commissions.
"Can you really learn anything in 3 days?" Trust me, I asked myself this question and joined the 3-day challenge. It was more than enough to start with.
Here's what you will get inside this 3-day workshop:
Day 1: Basics About Affiliate Marketing & Montoya's Journey
This is where Jonathan shares his journey with you—how he became a full-time affiliate marketer after quitting his 9-to-5 job. I am sure many of you will relate to his life story. Very inspiring!
He will also show you his affiliate stacking ecosystem that helps the marketer keep generating recurring commissions from multiple offers promoted to the same audience.
He will show a few income proofs from his students and their stories as well. For those of you who are feeling frustrated with your make money online journey so far, this might serve as a great motivational dose.
Day 2: Learn Building Funnels One Step at a Time
The second day module is a bit technical where you learn how to set up the exact affiliate marketing funnels that bring him his regular income. Though technical, you don't need to be a "techie" to get this—beginners are welcome too.
He will show you how to find the right offer to promote. He will show you how to follow up with your leads via email marketing. All you need to do is sign up for a bunch of software and then click-click to import the DFY setup.
Affiliate marketing is mostly about automation. Jonathan makes it so easy for you to get your automated system up and running on Day 2.
Day: 3 Driving Traffic to Your Affiliate Marketing Funnel
In the Freedom Breakthrough 2.0 full training, you have multiple modules discussing different modes of traffic generation. In the 3-day challenge, we will get a short glimpse of that.
The traffic methods are as follows:
Facebook
TikTok
YouTube
Google Ads
I won't say you won't become an expert at traffic generation, but you would definitely get a nice head-start above the rest.
Get started with the 3-Day Freedom Breakthrough Challenge here
Is Freedom Breakthrough a Scam?
The Freedom Breakthrough 2.0 is not a scam. It comes with legit income proofs and testimonials from real users of the training, along with an in-depth training of how to build your first online affiliate marketing business.
I have reviewed multiple products so far and I can tell you this is one of the best affiliate marketing courses there is.
I know Jonathan personally as well.
I am a part of his Facebook group.
I see regular interaction over there.
There is nothing illegal going on—quite a few people post their first wins every day.
It's a bit wishy-washy for my taste, where everyone is coddling each other and basically steering away from any tough advice. But every member of that community is basically pushing each other to become the best version of themselves.
And that means a lot for total beginners, I believe.
The question is, is Freedom Breakthrough producing results for its members/buyers?
Yes, it is. Look at the screenshots below.
So, if you ask me, I will say, "If a make-money-online course helps you generate a single dime, it's not a scam. It's 100% legit!"
So that's my answer to this question.
My honest review of the Freedom Breakthrough 2.0 program
Affiliate marketing is not a fad—it's the REAL DEAL. And if you can sell a $10 product, you can sell a $1,000 product too. Don't know where to start? Freedom Breakthrough 2.0, in my humble and honest opinion, is for you.
Here's what you will do:
Step 1. Sign up for the Freedom Breakthrough 2.0 program.
Step 2. Start going through the program, one module at a time.
Step 3. Apply what you learn every single day. TAKE ACTION!
Step 4. Share your questions and thoughts in the community.
Remember, this training contains 100% legit information based on the real-life internet marketing experience of Jonathan Montoya. It is COMPREHENSIVE and it can help you get started.
If you are looking to get started or struggling to make that high-ticket affiliate sale…
If you dream of leaving your 9-to-5 day job and saying to your boss, "I quit!"…
I say, give Freedom Breakthrough a try. You won't be disappointed. (That's from my personal experience.)

Get access to Freedom Breakthrough 2.0 today
Join BizeReads Newsletter
Interesting stuff on how to make money online!
PLUS exclusive deals and offers.