Although the consumption of traditional TV is falling little by little, there are still many interested in being able to follow their broadcasts on a computer screen. The truth is that it is not as easy to do as you might expect, although nowadays the large generalist media already have their own web pages and streaming platforms that make it a little easier. However, not all general channels or DTT are on these platforms, nor do users want to limit themselves to that open offer. There are thousands of TV channels around the world and when it comes to first-run movies or live sporting events, local TV is of little interest. Of course, if you use the alternative you use to watch TV on a PC, you need to have an Internet connection.
Live TV streaming for Windows
Below we show you the main ways of watching live TV with a PC and the important thing, how to do it in each case well explained. Choose the alternative that you like the most, a few previous configuration steps and enjoy your leisure.
Kodi, the most complete TV on your PC
Kodi is the best alternative available and the most complete. This software acts as a media center with the particularity that it not only allows you to manage the multimedia content that you already save, but also also access to movies, series or streaming TV broadcasts through its large catalog of accessories, which is what really interests us. You have to make a few previous adjustments, but after that you will have TV almost without limits thanks to the user community.
To start download and install the software on your PC (we save the explanation of how to install a software in Windows right?). Once installed and open, go to Settings to change the language to Spanish.
Watch TV on Kodi using IPTV clients
Next we need to install a PVR client. To avoid going into many technical details, this is the tool that Kodi needs to be able to play TV live. In the menu on the left, click on Add-ons.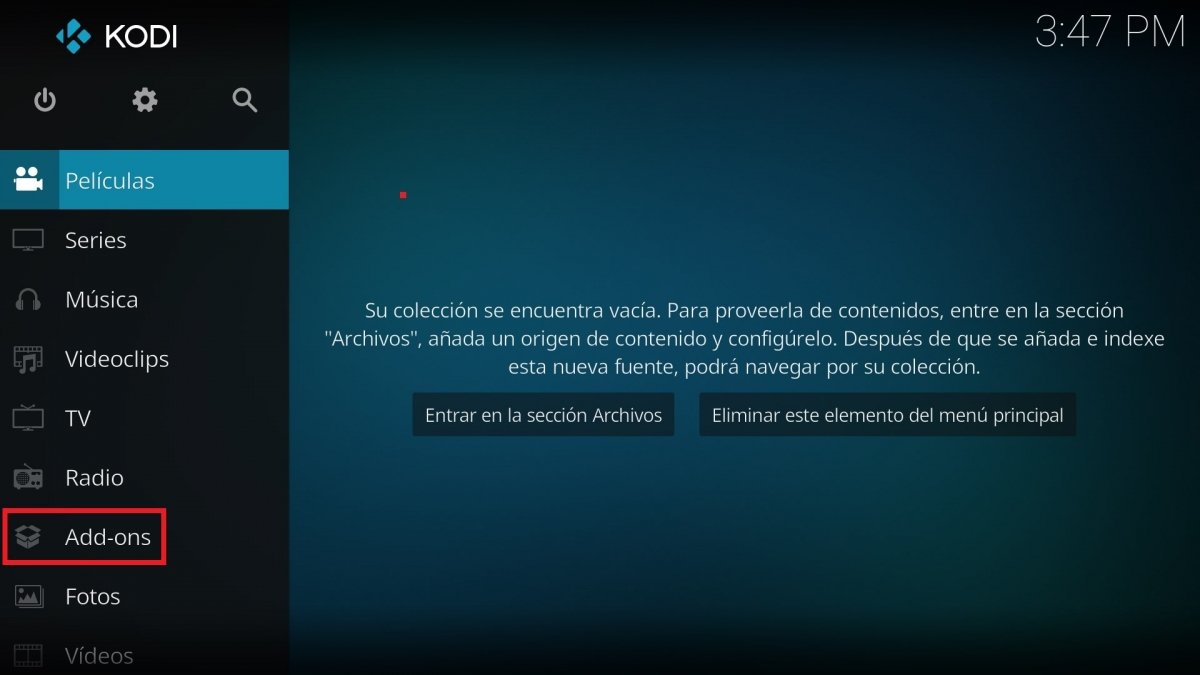 Kodi Home for PC once installed
Now in that same menu on the left go to My add-ons but don't click, just leave the pointer over the option, several icons will be displayed on the right. Select PVR Clients .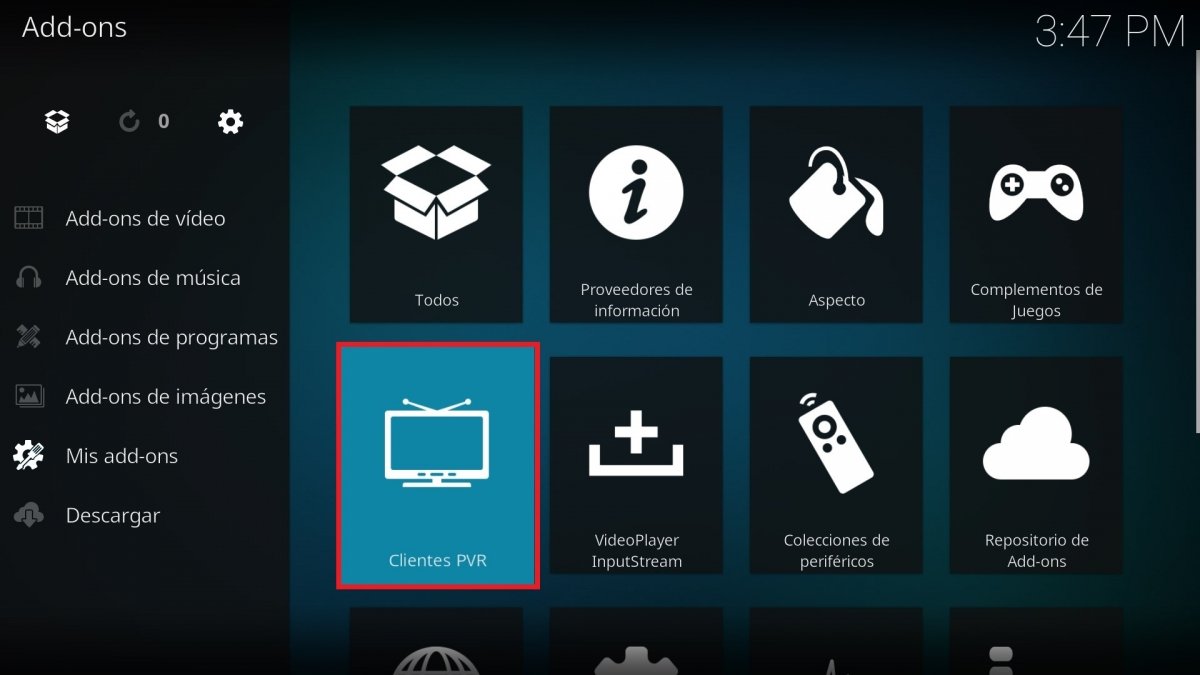 PVR Clients Option on Kodi
There are several tools of this type but we recommend PVR IPTV Simple Client. Click on it.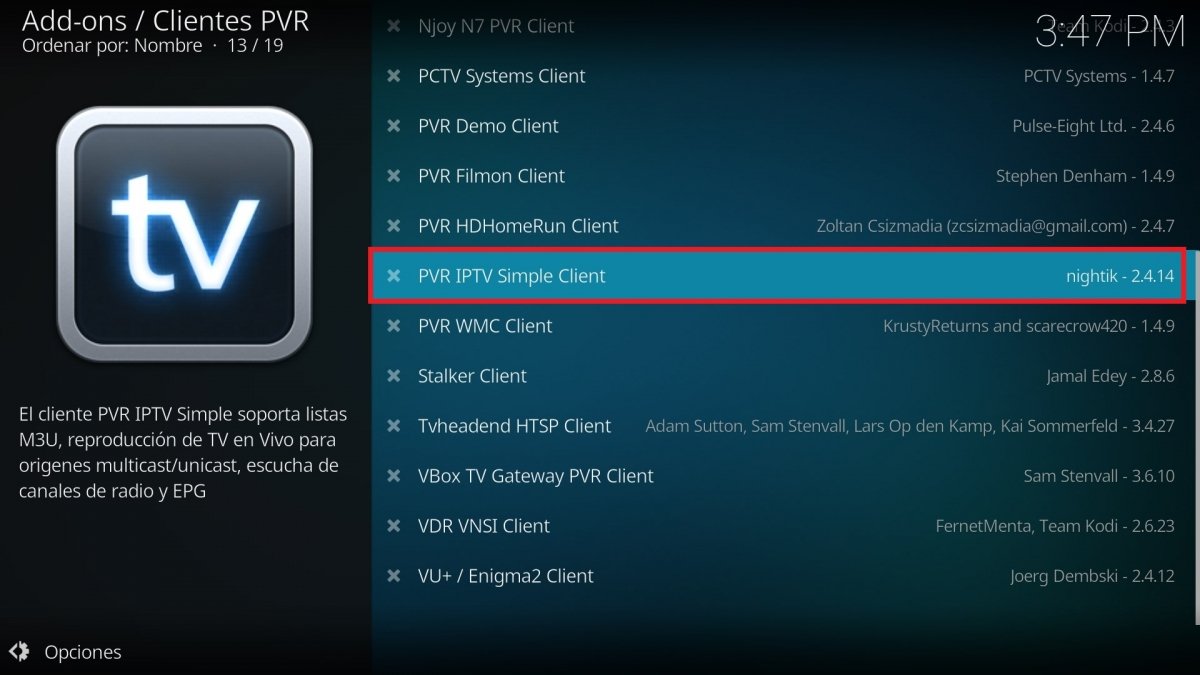 PVR IPTV Simple Client among all Kodi PVR clients
Among the available options below, select Activate (all PVR clients on the list are pre-installed, simply they must be activated to be able to use them).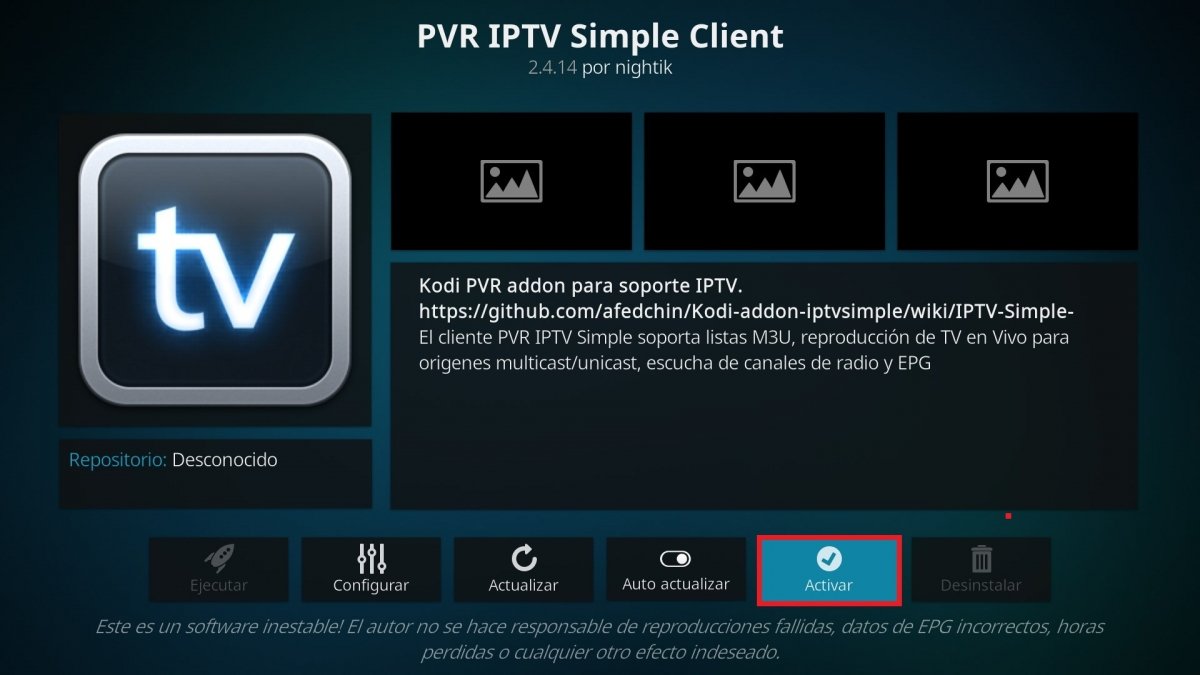 Option to activate the PVR IPTV Simple Client plugin
Then access in this same ribbon of options below Configure . Within the section General , you can import your M3U lists from a local directory or enter a URL from the Internet. In this case we will use a local file, so the PC directory tree will open, but if you use a web address a window will appear for you to write it.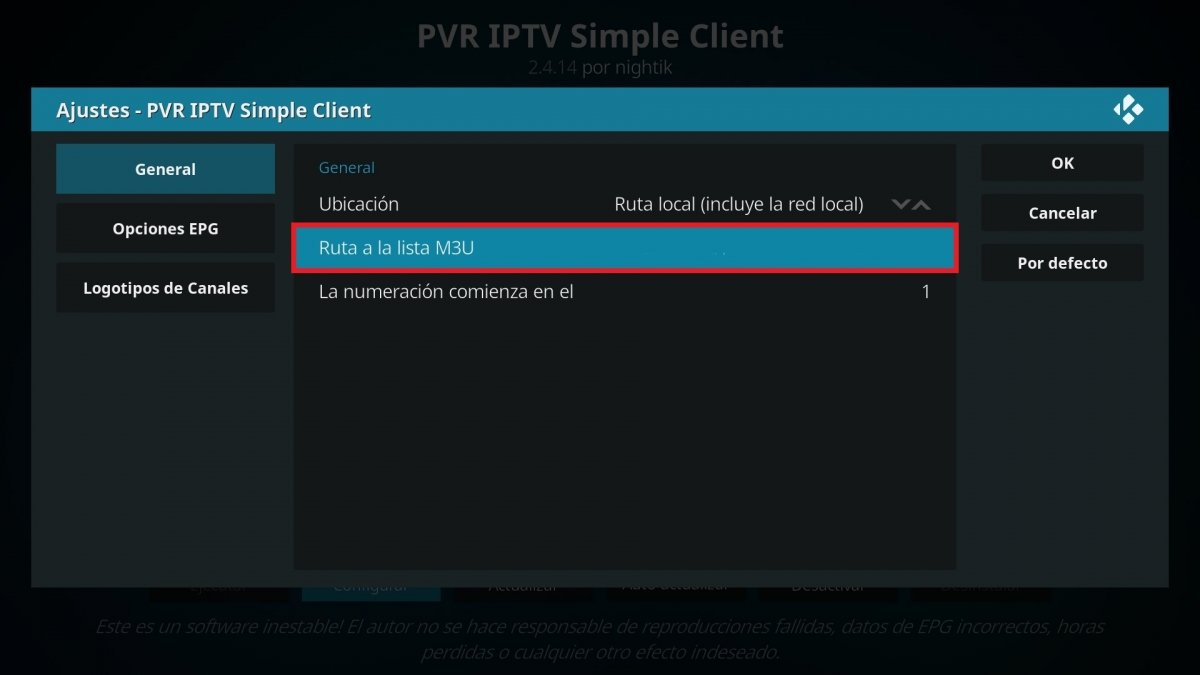 Importing a M3U list on Kodi
Once the list is imported, click on Okay. A message will alert you to restart Kodi. You will also see a notification with the number of channels added.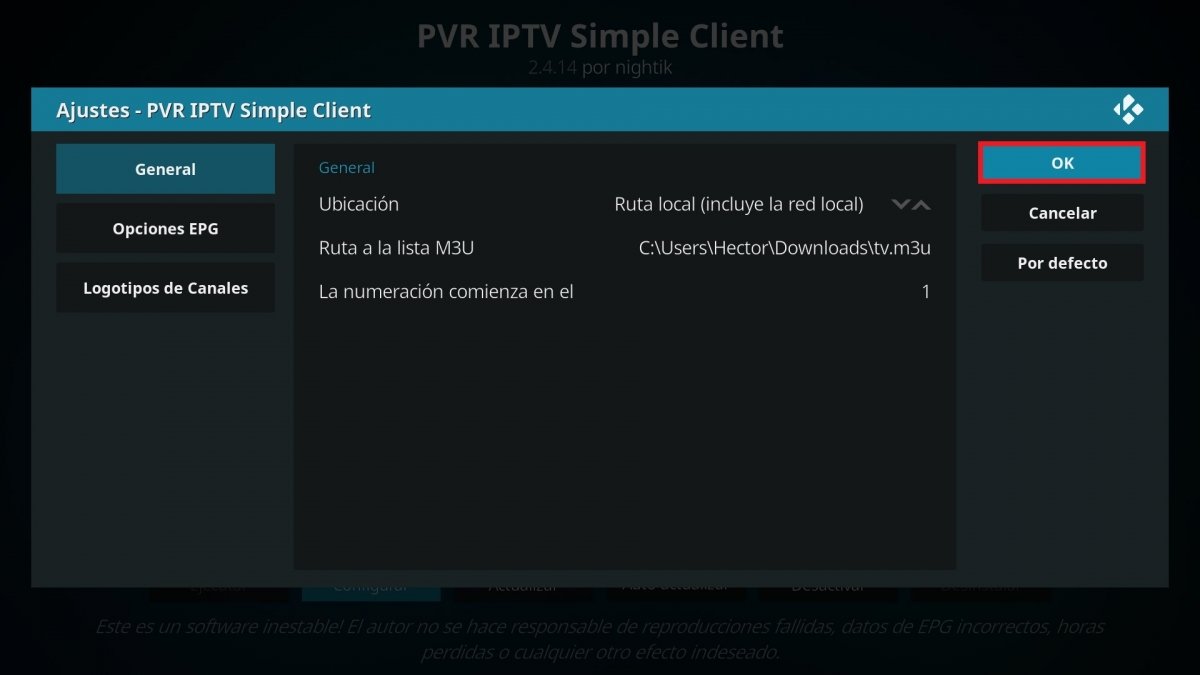 Confirmation of M3U list import on Kodi
When you return to the interface after closing the program and opening it, you will receive a notification warning that new TV channels have been added. Click on the section TV in the menu on the left.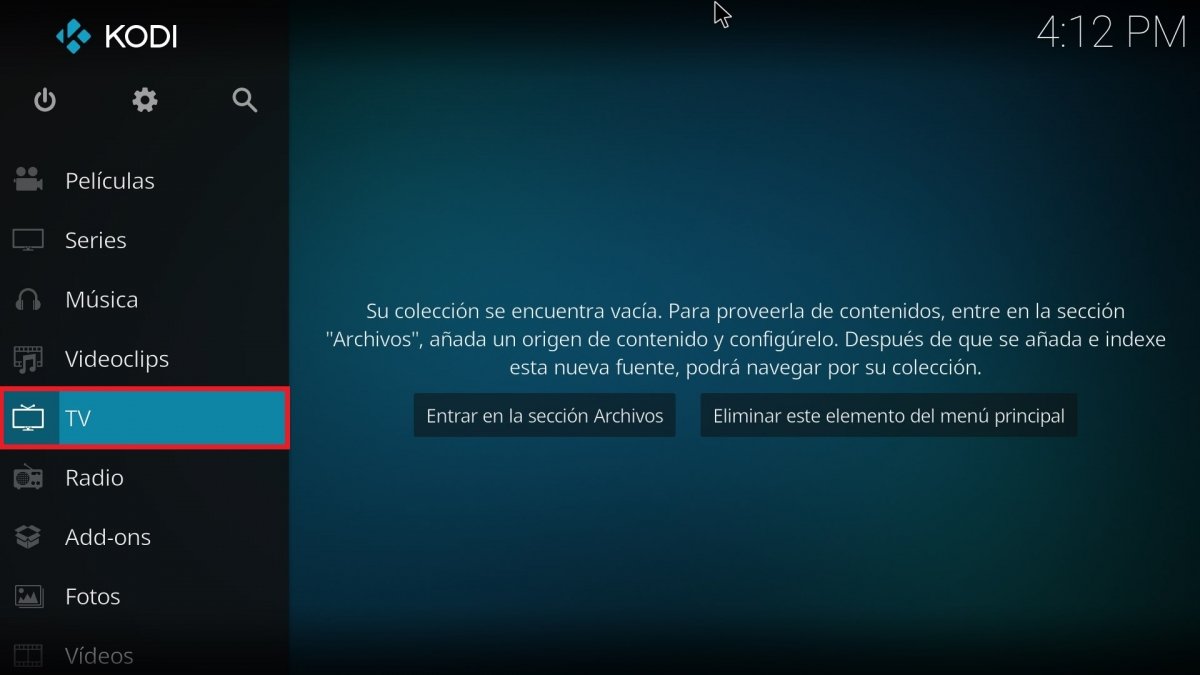 TV section in Kodi
Now you will have before you the entire list of imported channels. Select the one you want to see.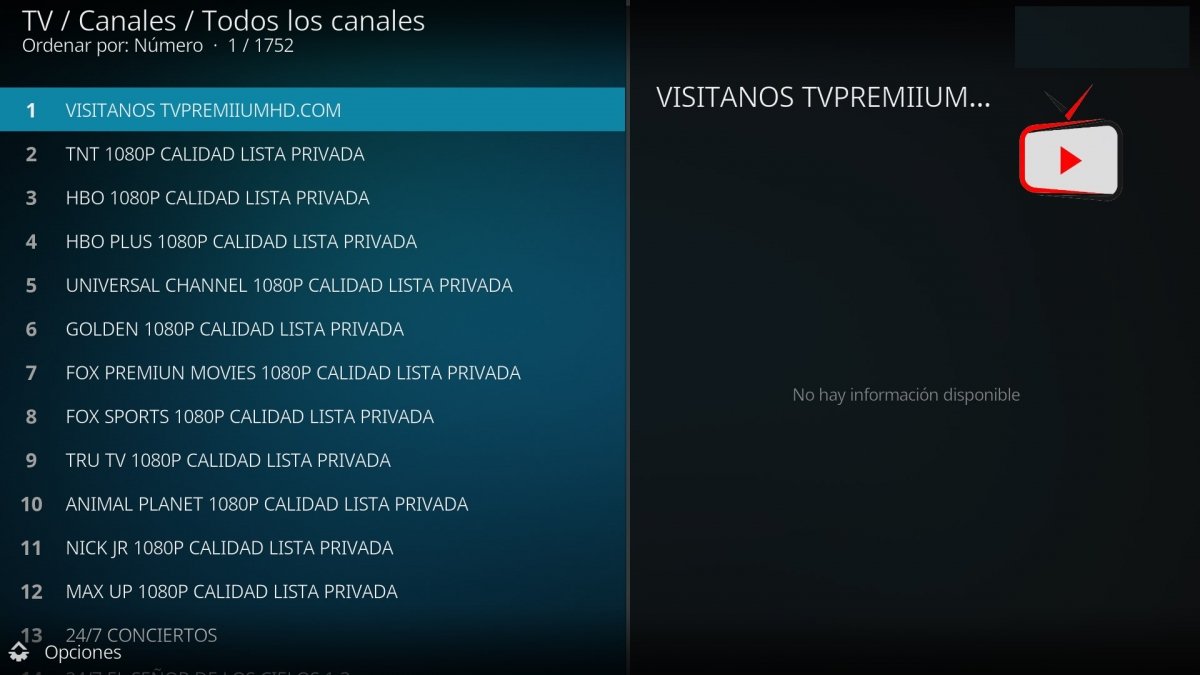 TV channels from a list viewed on Kodi
Playback will start in the background. Click on the background of the interface and you will go directly to the player to see the content.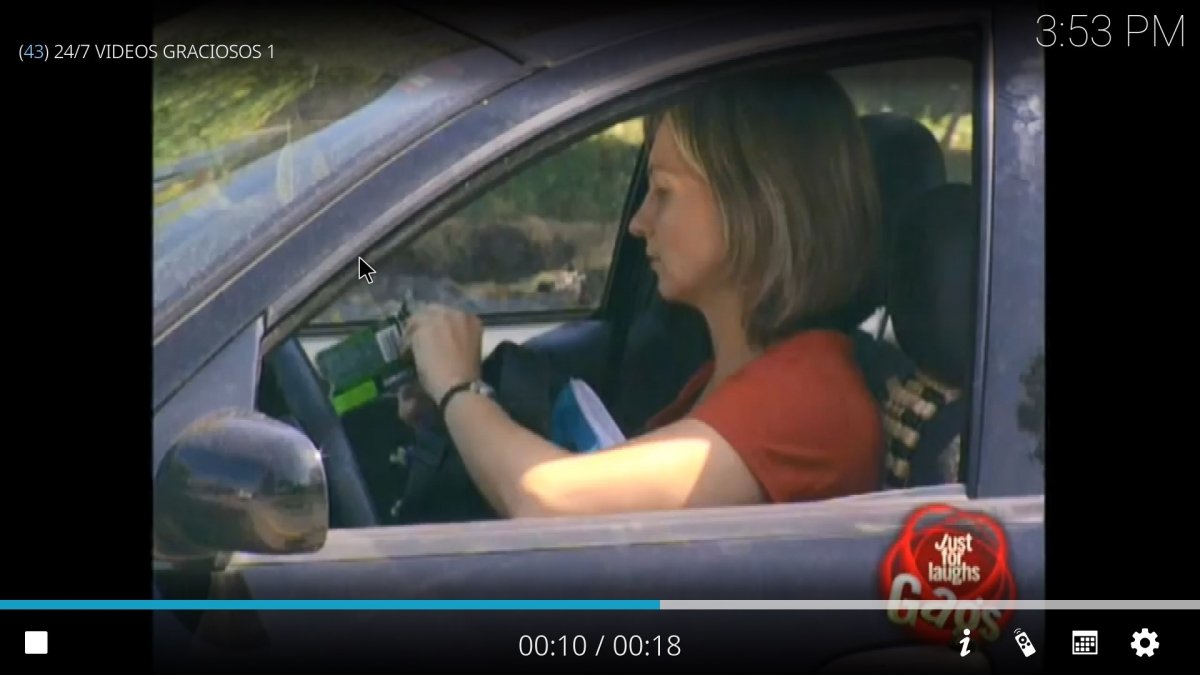 Watching a TV channel on Kodi
Watch TV on Kodi through add-ons
Your second option is to use one of the multiple existing add-ons from Kodi that allow you to access all kinds of multimedia content. For this we recommend you to take a tour of our directory of addons for Kodi . There you will find accessories to watch TV, series, movies, documentaries … Or even all at the same time.
All you have to do is download the add-on you are interested in on your computer. Once that's done, open Kodi and on Home, press the gear-shaped icon at the top of the menu.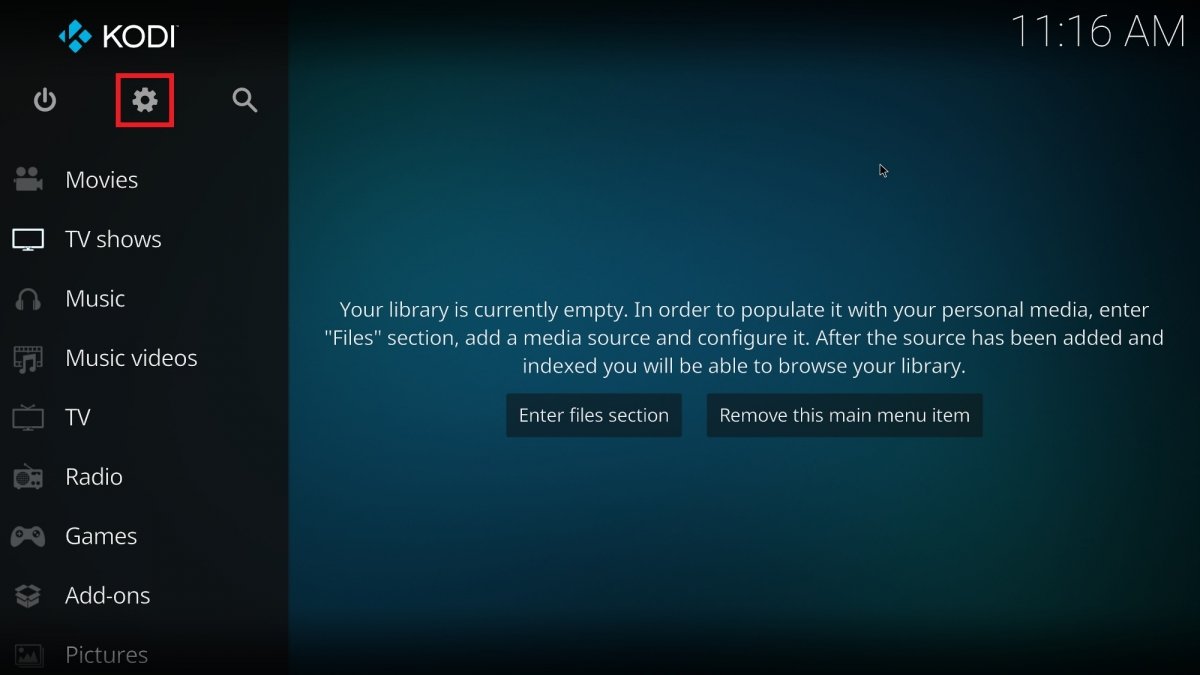 Access up to Kodi settings
Among all the options you will see, search for System to enter the system settings.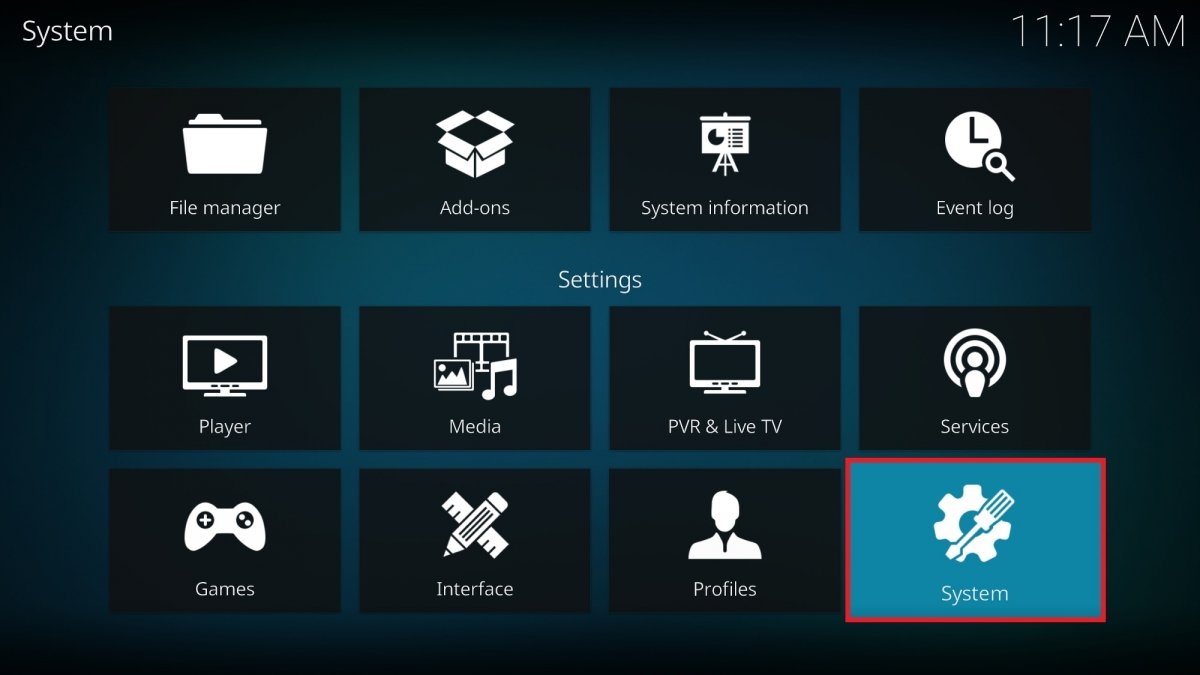 System section of the settings from Kodi
On the left side there is a menu you can navigate through. Enter the section Add-ons and look at the option Unknown sources . You must move the switch to the right with a mouse click.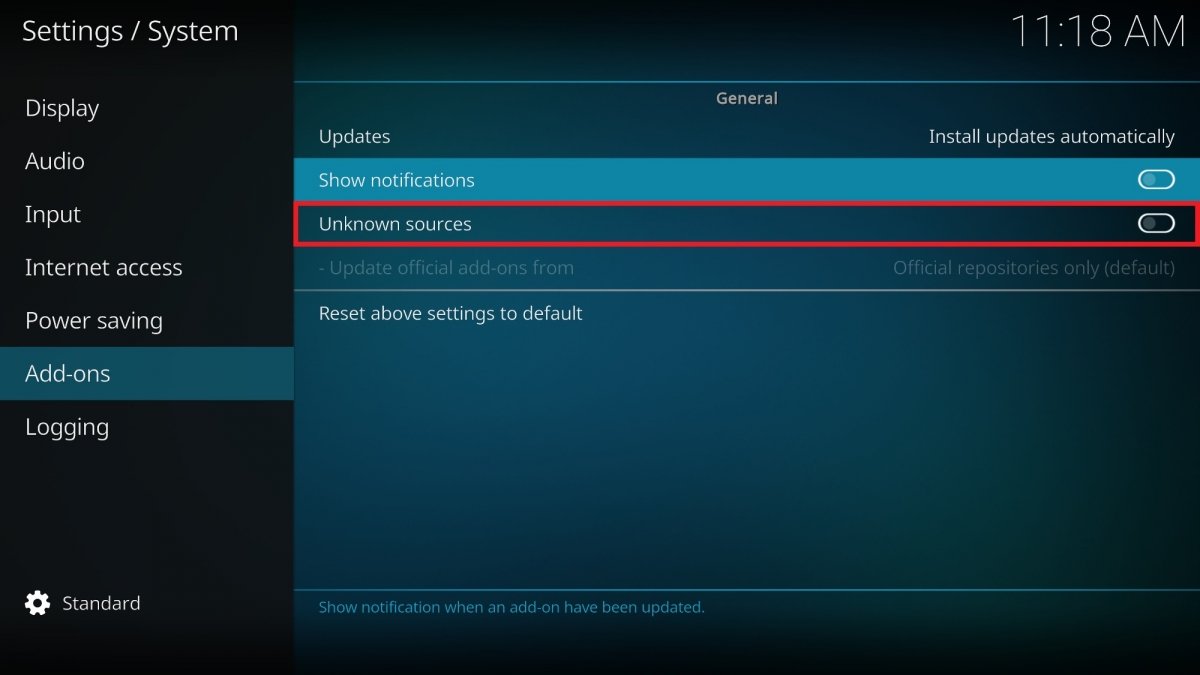 Setting unknown fonts in add-on settings
When doing so you will need to confirm the change in the pop-up window by clicking on Yes .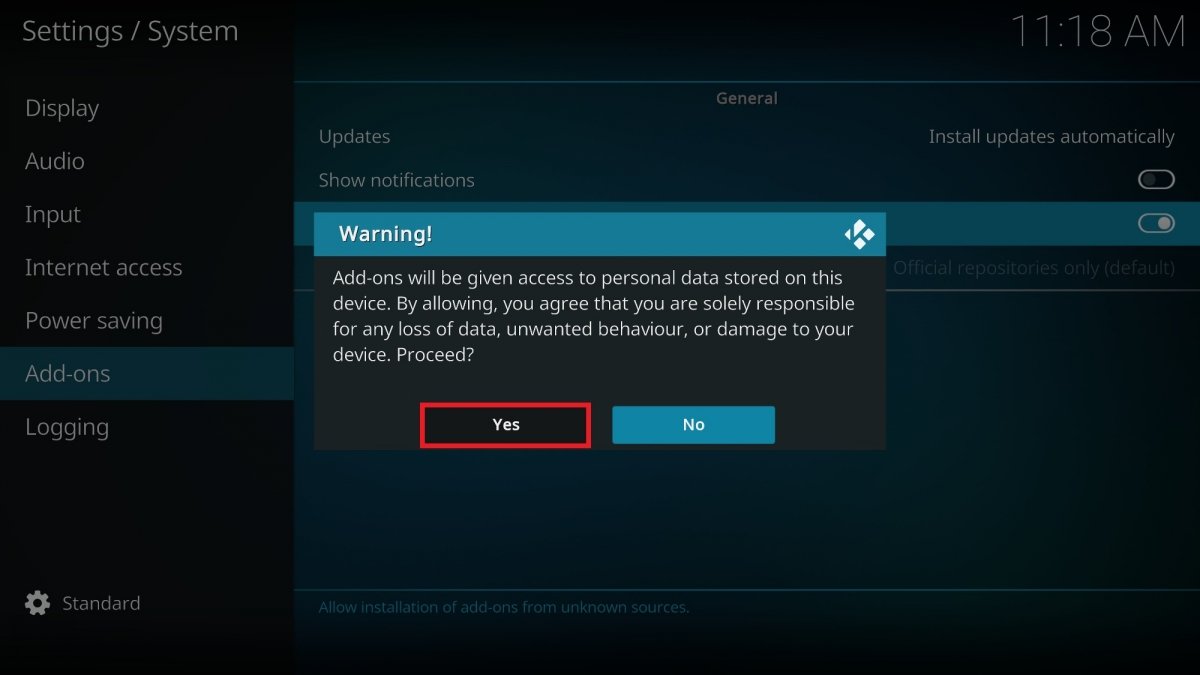 Confirmation of the new setting to install add-ons
Return to the main screen and go to the section Add-ons .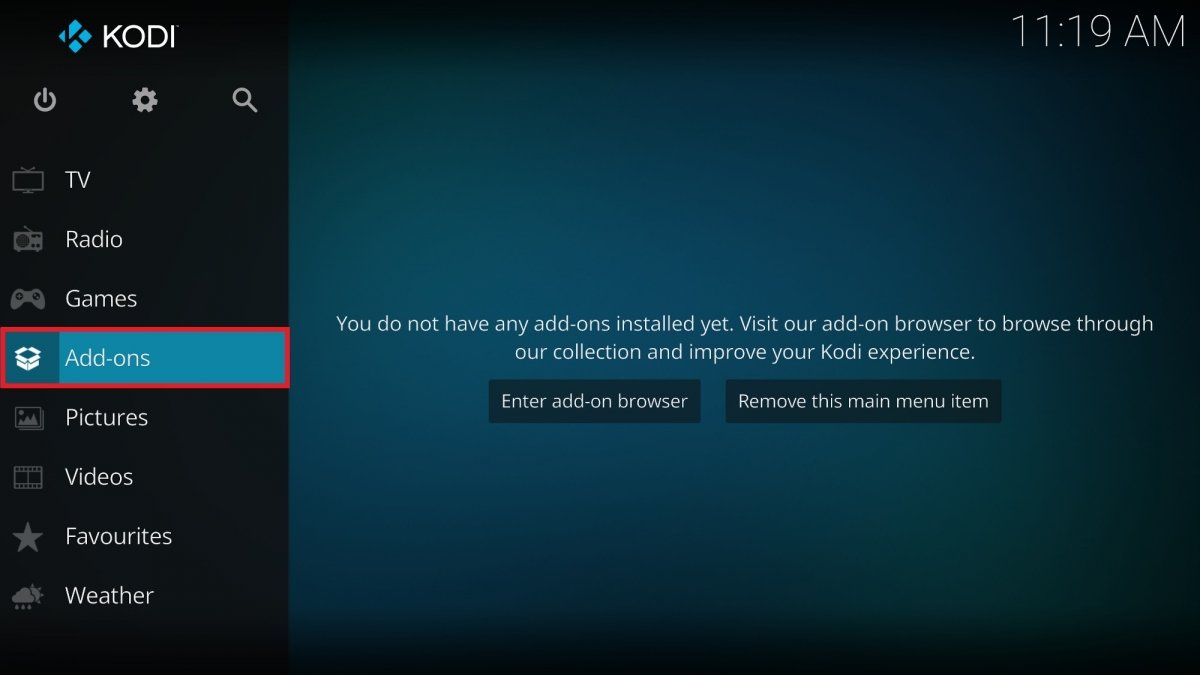 Enter the Add-ons section
In the side menu, press the open box icon.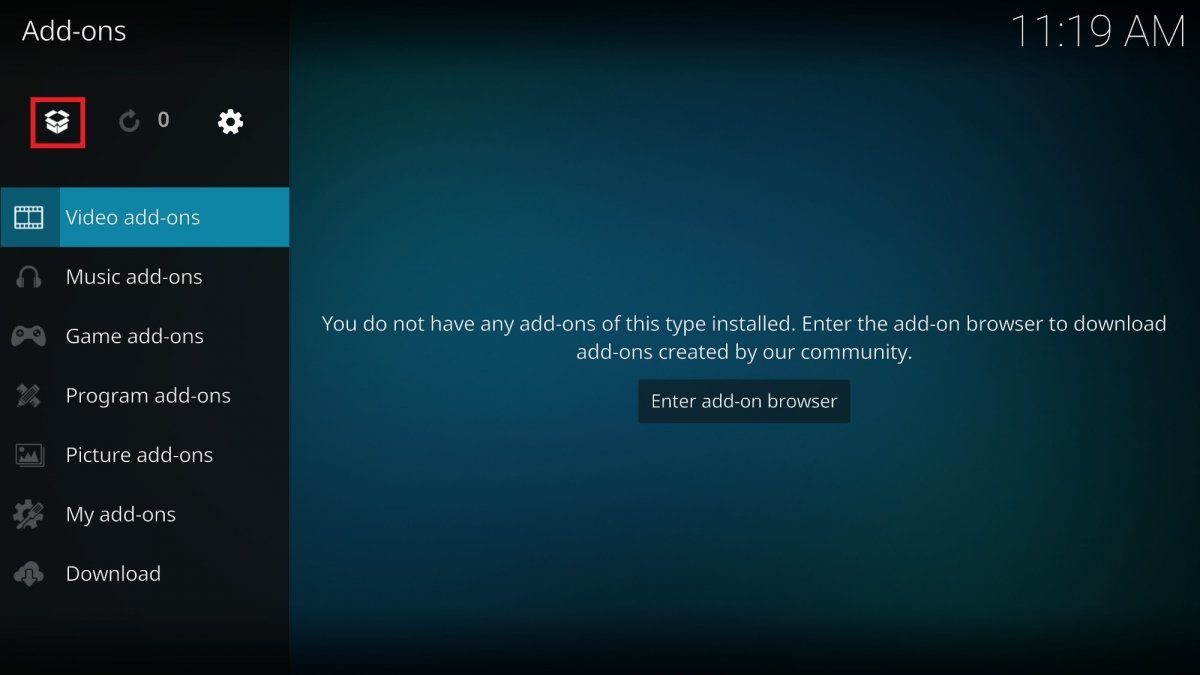 Press the icon in the shape of an open box
Select the option Install from zip file .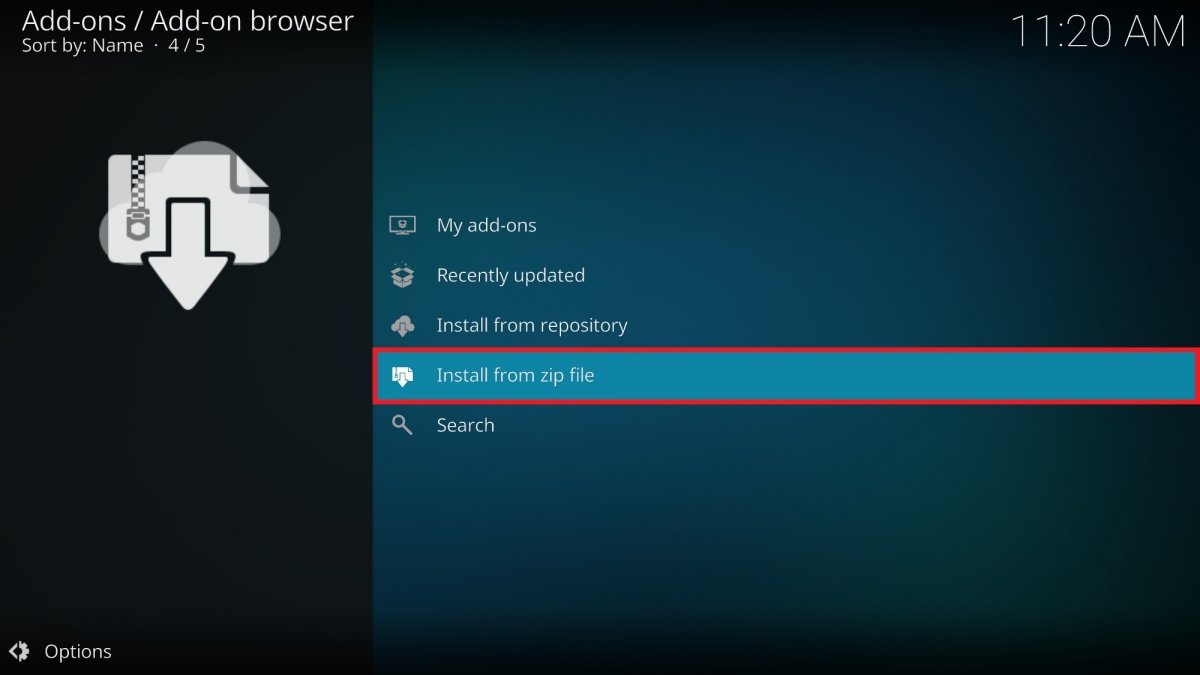 Choose the option to install from a ZIP
Doing so will open a browser of files. Browse the directories on your PC to the folder where you save the plugin in ZIP format, select it and press Ok in the part right.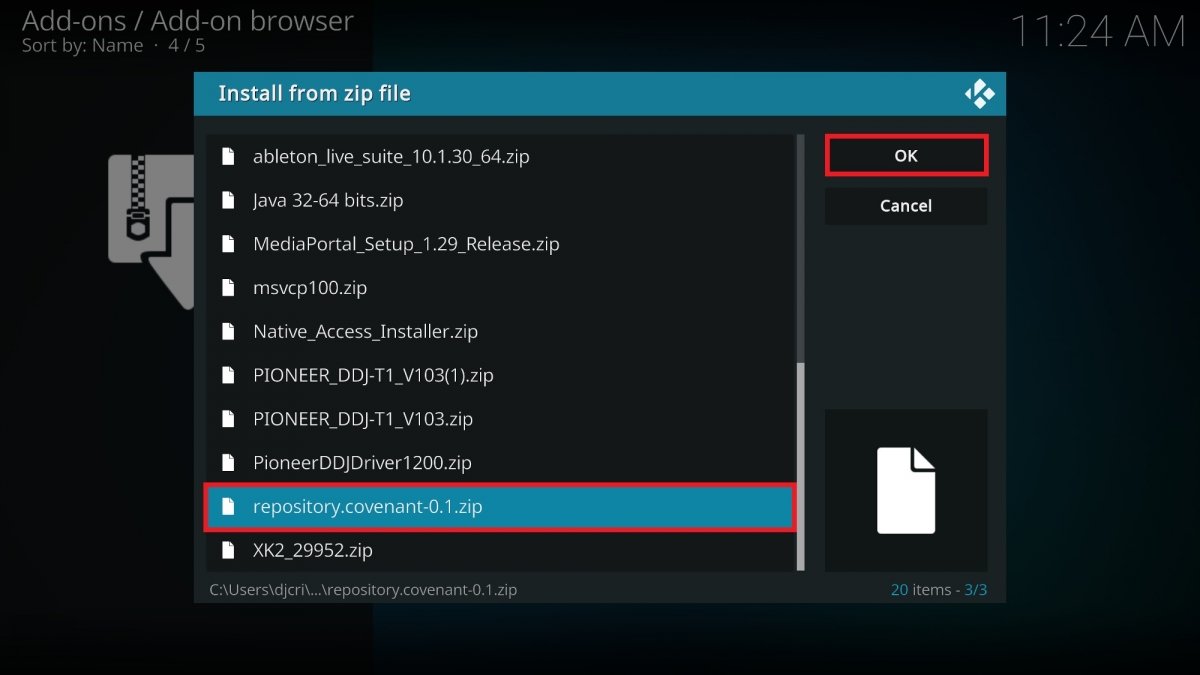 Find the plugin with file explorer
When the installation of the add-on is complete you will receive a notification and it will become available in your collection of add-ons accessible from the home of the software. You just have to browse through its contents to locate the available TV signals.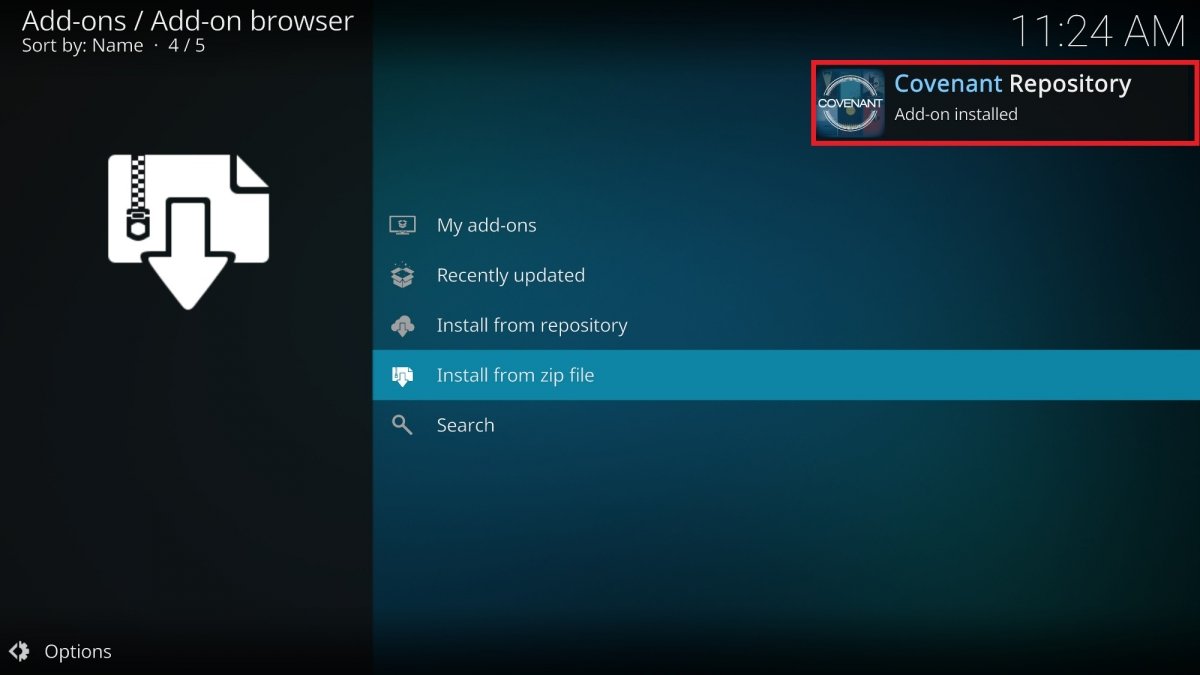 Notification of Plugin Installed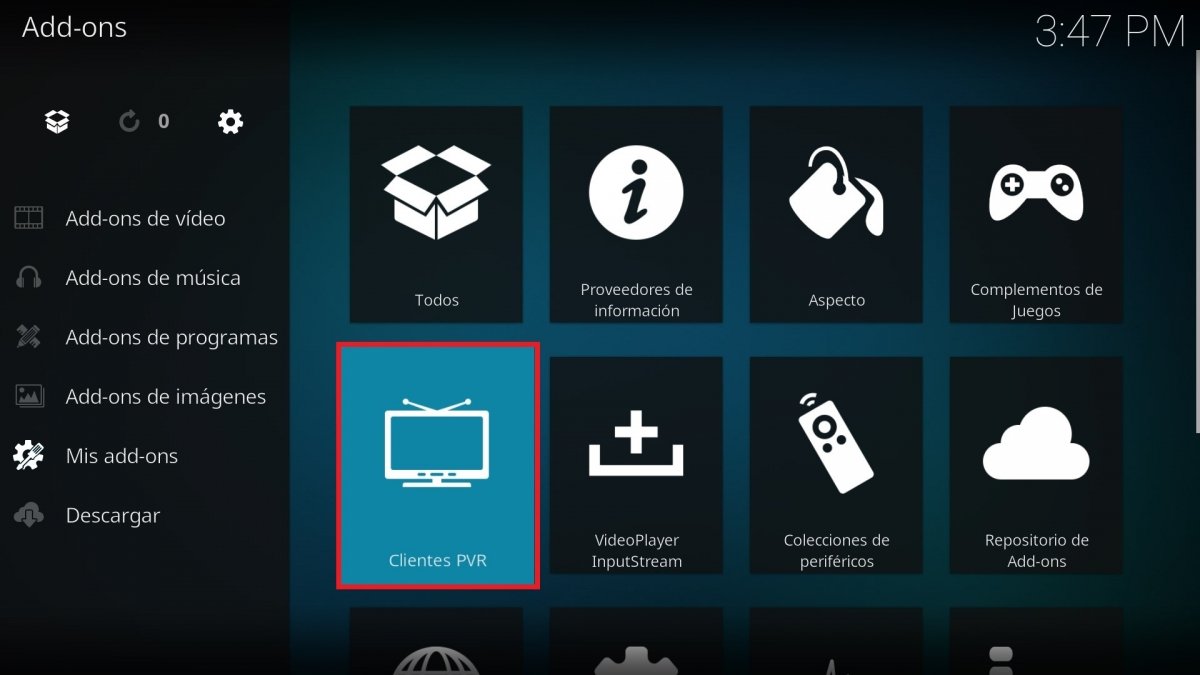 VLC, to watch TV with M3U lists
The most popular multimedia player is a fantastic option to watch TV on your PC, the only problem is that you will have to get updated channel lists first. VLC is compatible with M3U lists , which are lists with web addresses of live TV broadcasts that are constantly renewed to allow you to play the content through its interface, but it is also compatible with Streaming URLs. Here the key is to find a good list provider (there is even a black market for sales for those looking for greater guarantees) or a valid web address, but once obtained it becomes the perfect solution: it is a program that we know, it works locally and You can have all the TV channels you want unified in one place, which saves time.
To get started do a little work on Google and locate web pages that share up-to-date M3U lists or TV streaming URLs. Take the opportunity to indicate in the search the month and year in which you are, you can ensure that you find more reliable results. You can also add to the search what exactly you want to see, you will find thousands of results on the Internet. Lists and addresses usually have a limited lifespan as fonts are constantly changing, hence the importance of using updated lists.
When you have it open VLC. Go to Medium> Open Network Location to open the options window.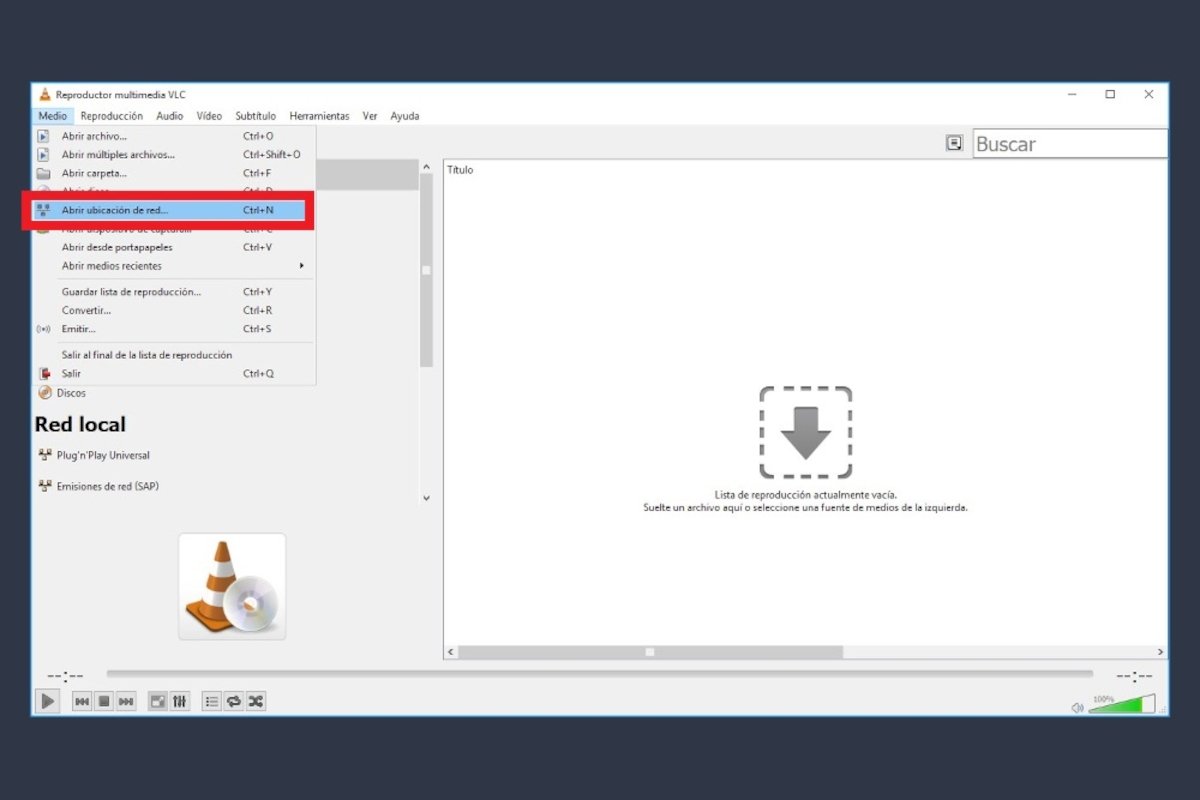 Open a Network location with VLC
Now you are in front of the Open Medium window. You simply have to navigate between the tabs to load the content you have in hand. If it is a file the first tab is yours, if it is a network location use the tab of the same name to enter the address and click on Play.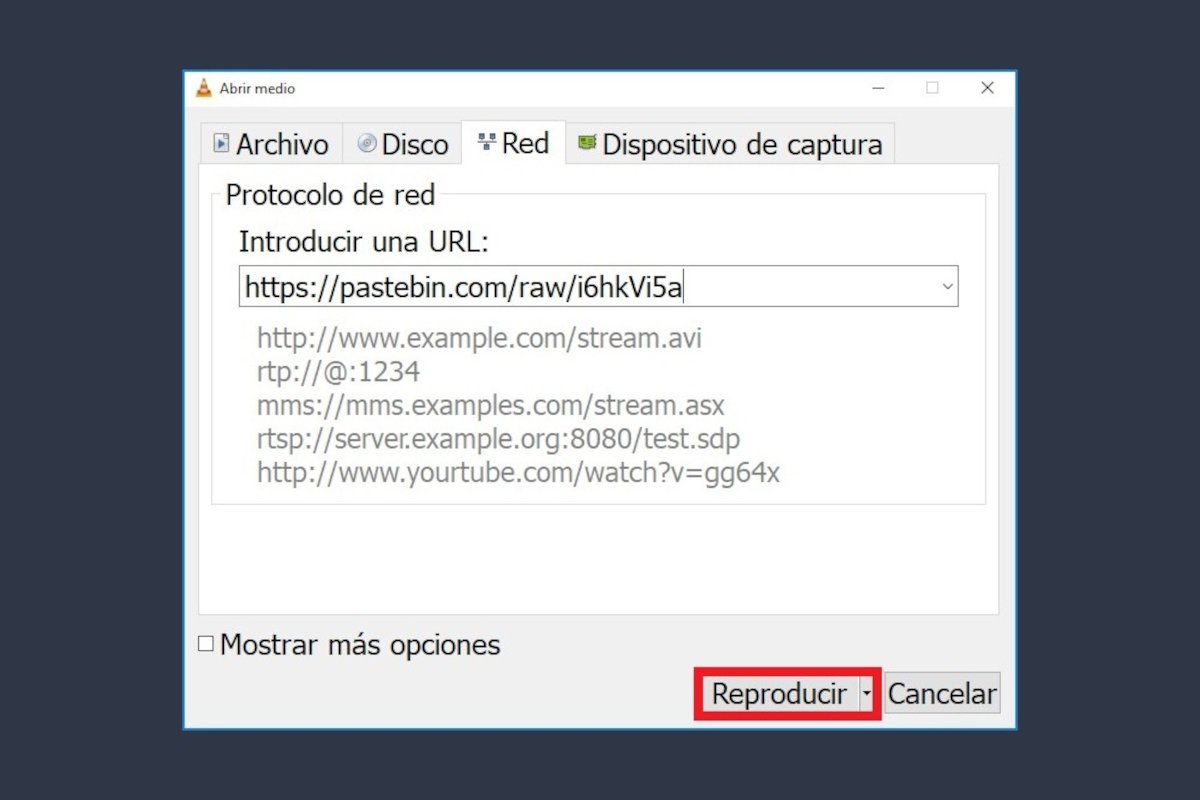 Importing a TV list in VLC
You should automatically see the list of channels and you can double click on any of them to start streaming.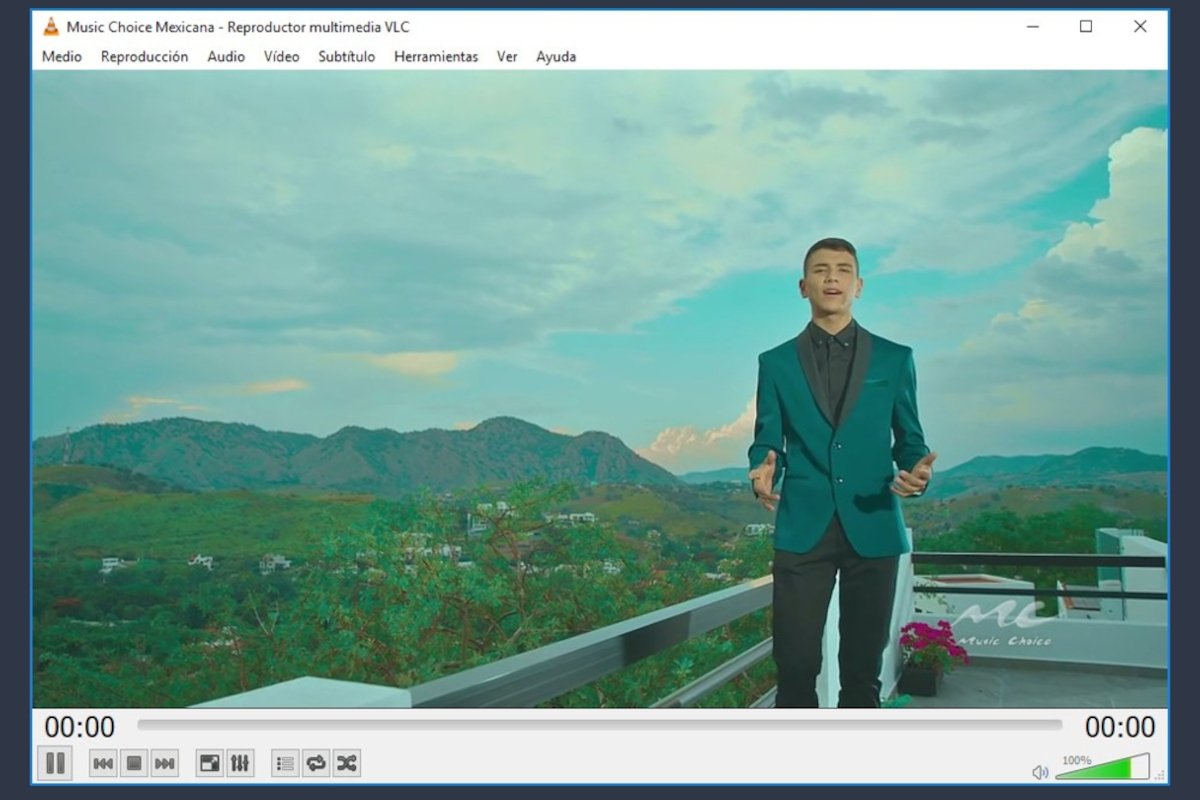 VLC playing a music TV channel
SopCast, TV live using P2P networks
SopCast is a program to watch TV on the Internet that uses P2P technology , so When you watch a video, you act as both a receiver and a sender. As in any P2P network, the more users are connected the better. As such, SopCast does not have a player and uses Windows Media Player by default, although you can configure the use of another player that you have installed. To watch TV with it, get the EXE file that we offer you through the Download button.
Install the software as you normally would. Once you open the interface you can enter as an anonymous user or you can create a user account, you choose.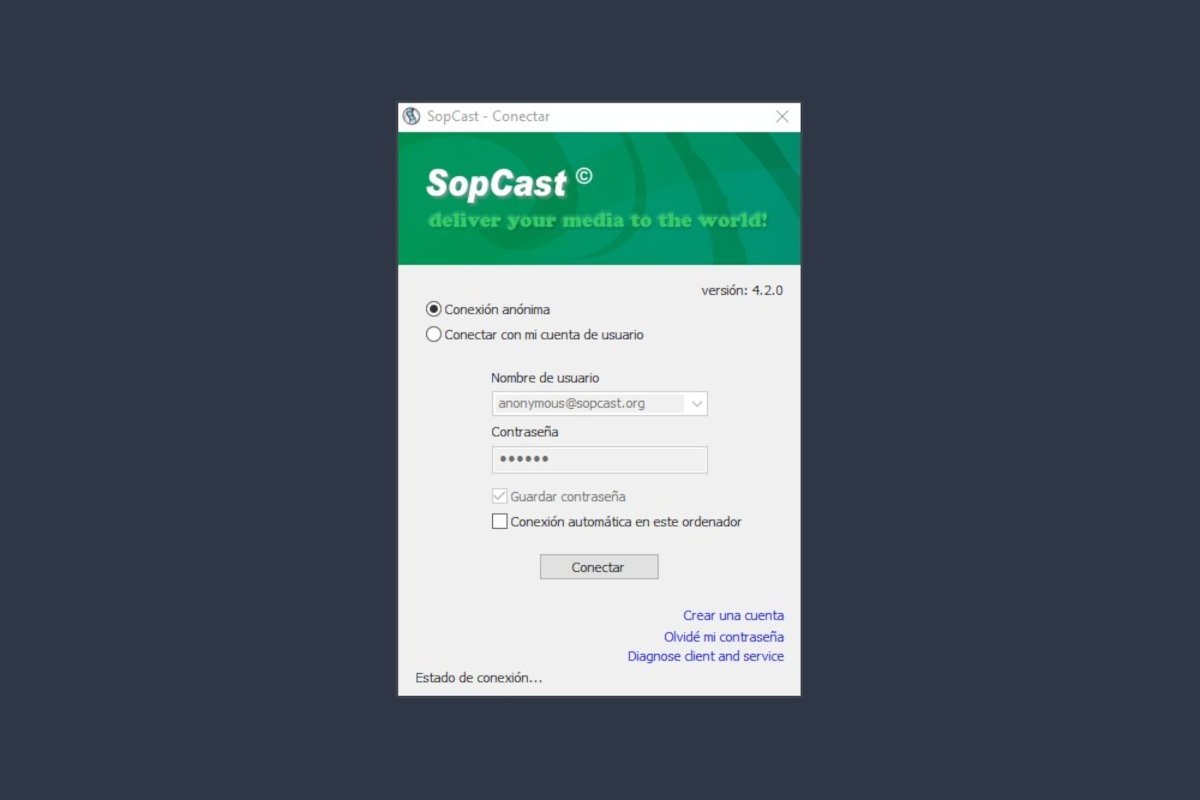 Access to SopCast on Windows
The interface is distributed in tabs. Go to the tab Live Channels , it is a list of televisions that are broadcasting. Double click on any of the channels that interest you.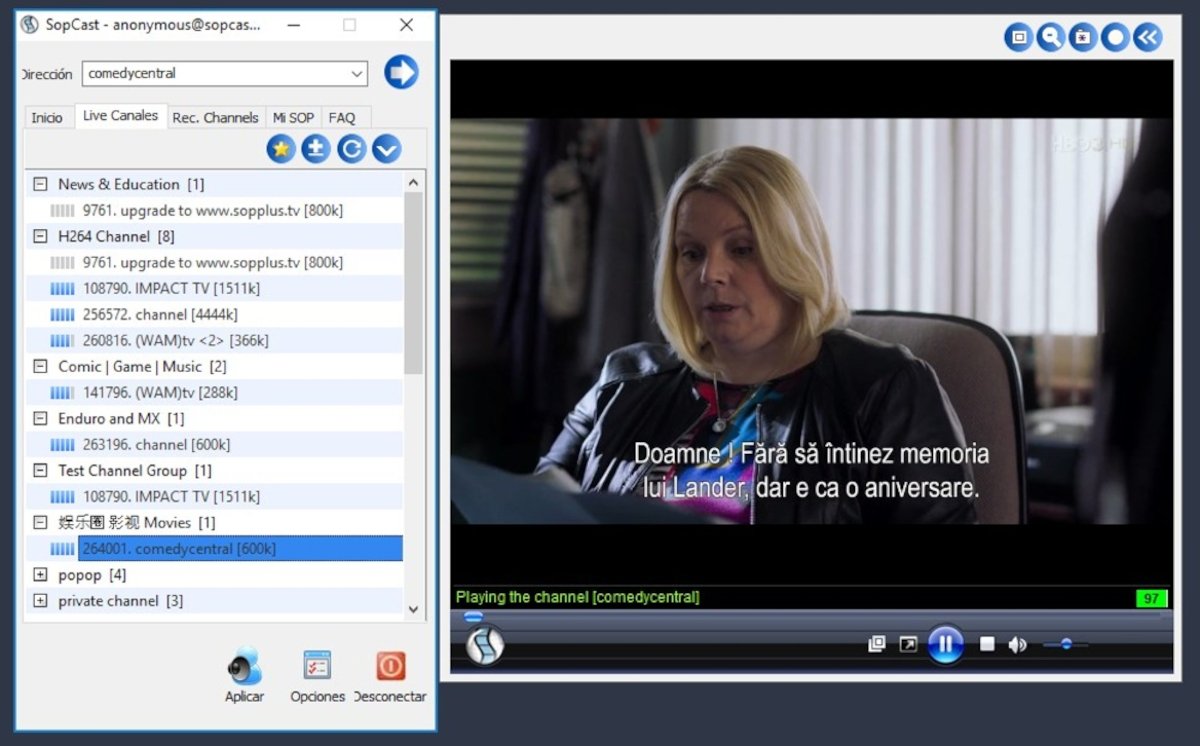 List of channels available by default in SopCast
The player will be displayed and you will be able to watch the streaming video.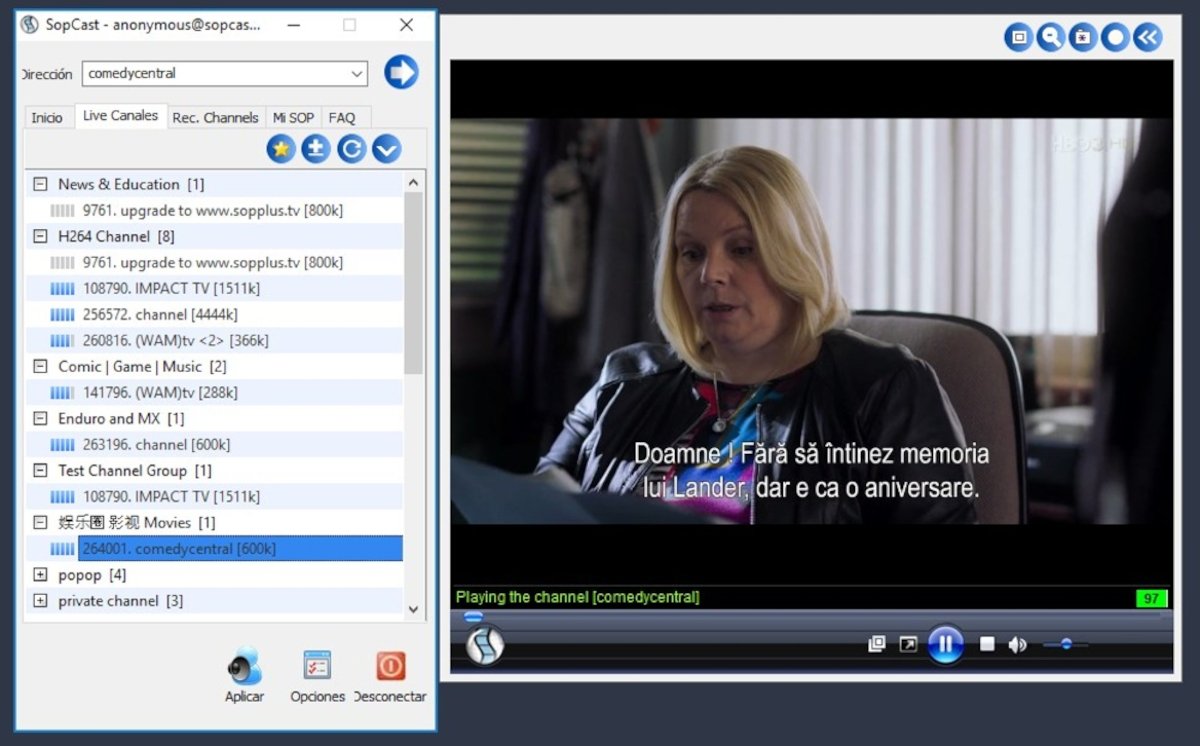 TV Playback with SopCast
Of course, these channels are the ones offered by the software by default. To be able to see other channels where really interesting content is broadcast like live sports, as with the M3U lists, you will have to do some searches on the Internet. There are many pages that distribute SopCast addresses updated with the corresponding channel you are looking for, all you have to do is put them in the field Address at the top of the interface. On the other hand, that you know that there are Add-ons in Kodi capable of working with the technology of SopCast , so you can tune TV channels of this type also in the media center , everything is to install the appropriate add-on.
Ace Stream, another P2P option to consider
Ace Stream is another program to watch Internet TV on PC that uses P2P networks . In our case we will use the official client, but like SopCast you can tune in to broadcasts of this type through Kodi using the appropriate add-on. First download the Ace Stream installer and install as you always do with any Windows software.
When the installation is complete you will have the Ace Stream icon on your desktop, but also the blue one for VLC: it is Ace Stream's default player called Ace Player. Double click on it. It is practically similar to the usual VLC, go to Media> Open network dump …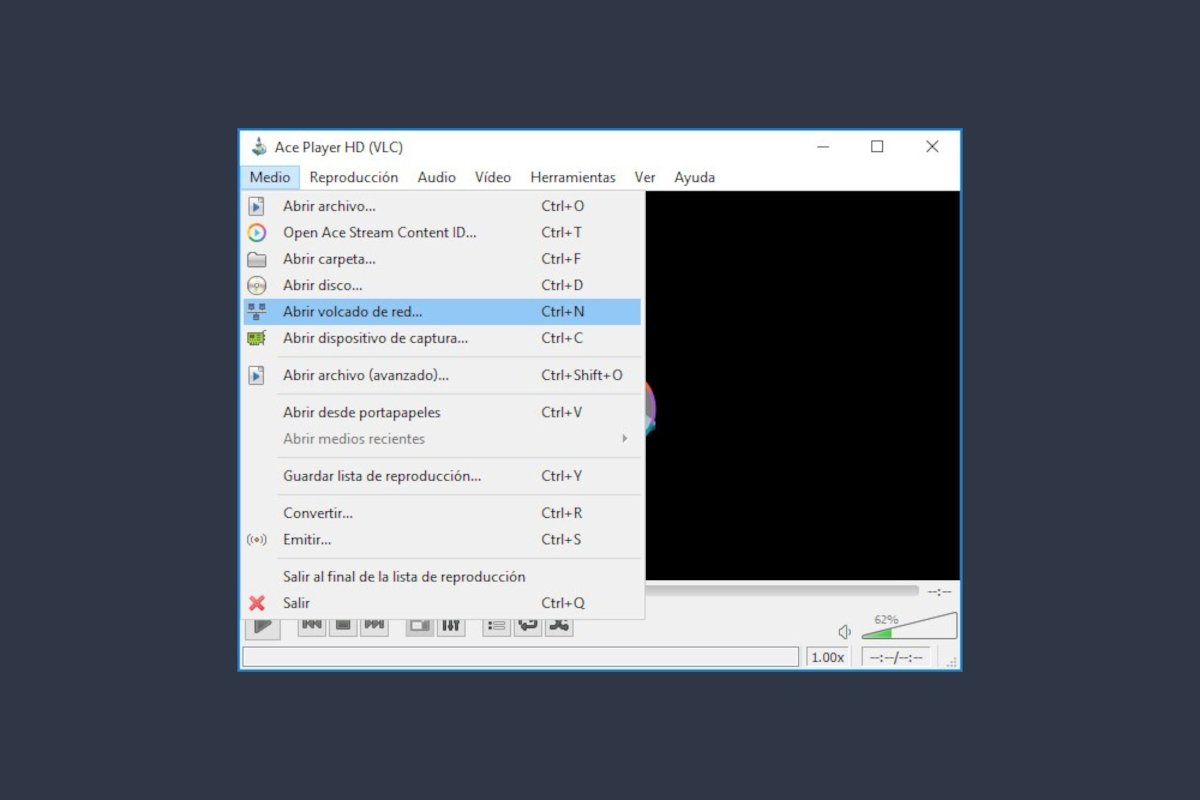 Open Ace Stream addresses in Ace Player
In the pop-up window you can specify the source of the video. The last tab is where you can enter the address of the channels with the Ace Stream format. When you do, click on Play .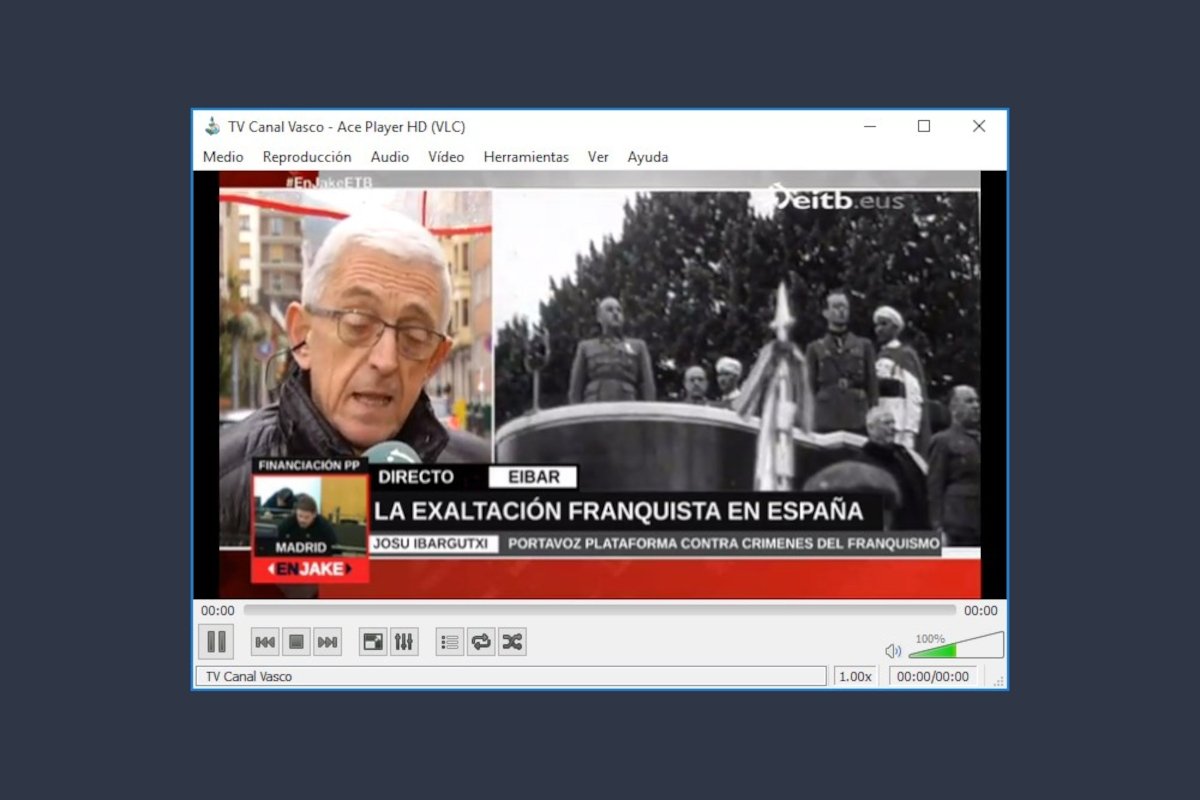 Ace Stream tab in open media option
After a few seconds the streaming broadcast of the channel you have chosen will begin.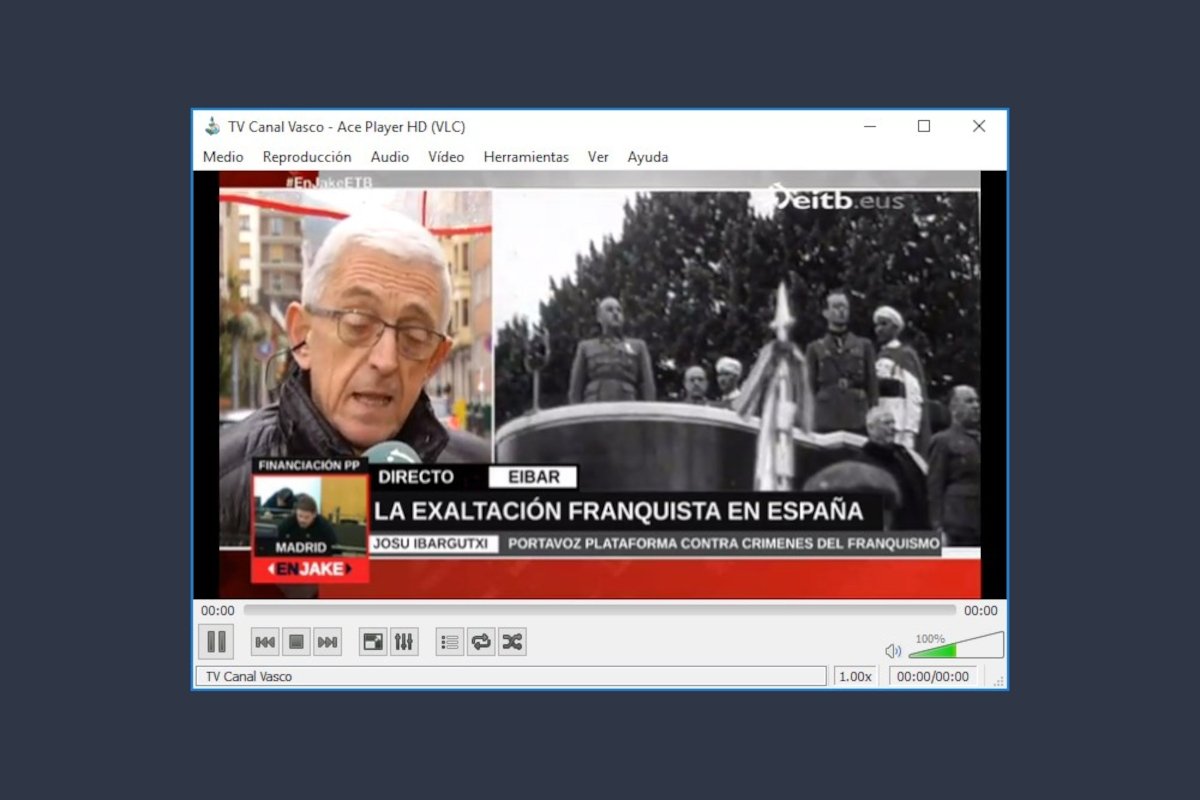 Playing a TV channel with Ace Stream
If you look you can also set the tab Network URLs of streaming broadcasts as we have done before with VLC.
TV 3L PC, infinite list of channels without configuration
This option is not as well known but it is just as useful, especially because includes "from the factory" a list of channels quite large that avoids the hassle of having to be looking for M3U lists or URLs with the corresponding streaming. You can continue accessing channels in this way, but here the default list included in the software is a great start.
To use it, simply download the installation file that we offer you through the button green Download as usual. Once the installation is complete, run it from the shortcut icon that will have been created on your desktop. If you look at the left side of the interface there is a direct access, as we indicated, to the channel list.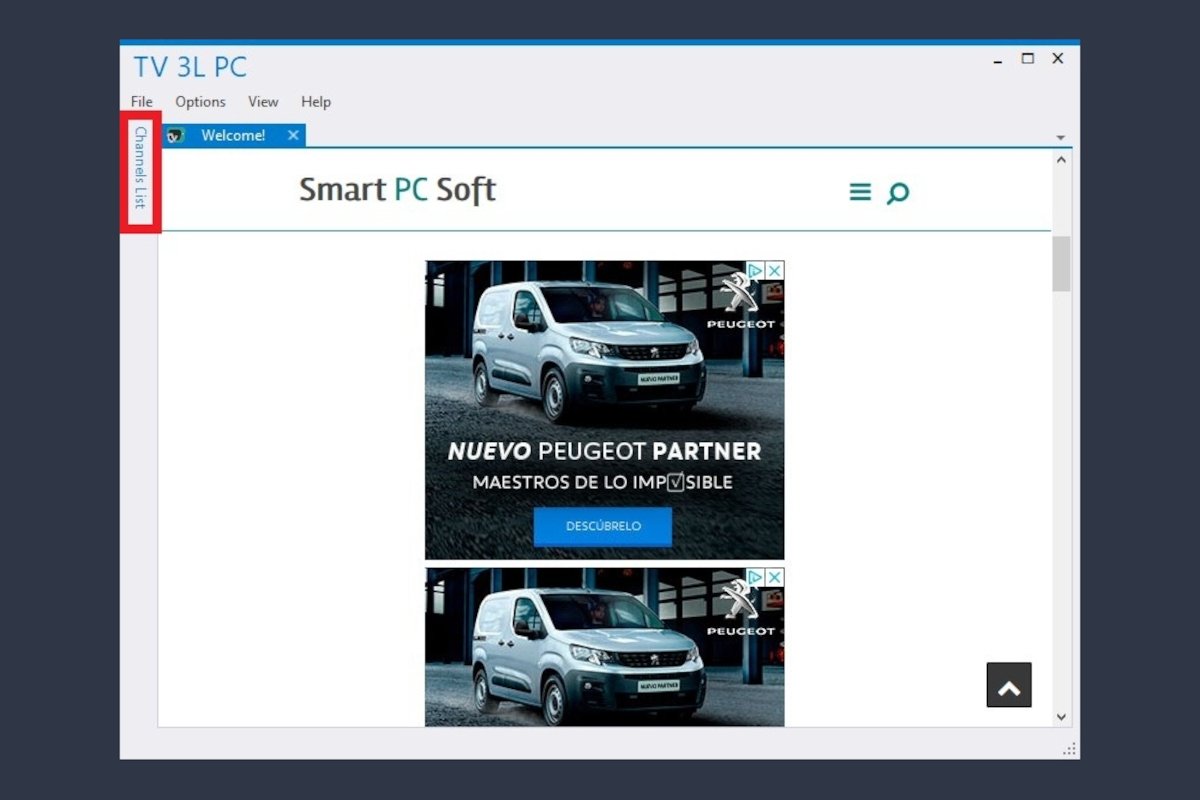 Open the 3L PC TV channel list
Now it's all a matter of double-clicking on the channel that interests you. If the broadcast is available it will open directly in the player on the right. Be careful because many channels have several servers to choose from . Also in the same list you can see which channels provide HD content and which are in low quality, so that you can choose based on the speed of your connection and do not suffer cuts.
List of TV channels on TV 3L PC
Megacubo, content in Spanish from all over the world
Megacubo is another attractive program with streaming broadcasts of the most varied and among which there is a lot to choose from, mainly content in Spanish both on one side and the other of the pond . You will find general channels, sports, culture, children and even radios. It is not the one with the most channels, but it is one of the most attractive in sight and quite simple to use.
As soon as you enter you will see on the right side a menu with options between them Channels . There are some shortcuts to specific channels in the left margin and some extra options in the lower right corner, but for now to tune TV you don't need much more, click on the option Channels and you will be able to see in that same right menu a categorization in folders, at access them you will see the list of available channels.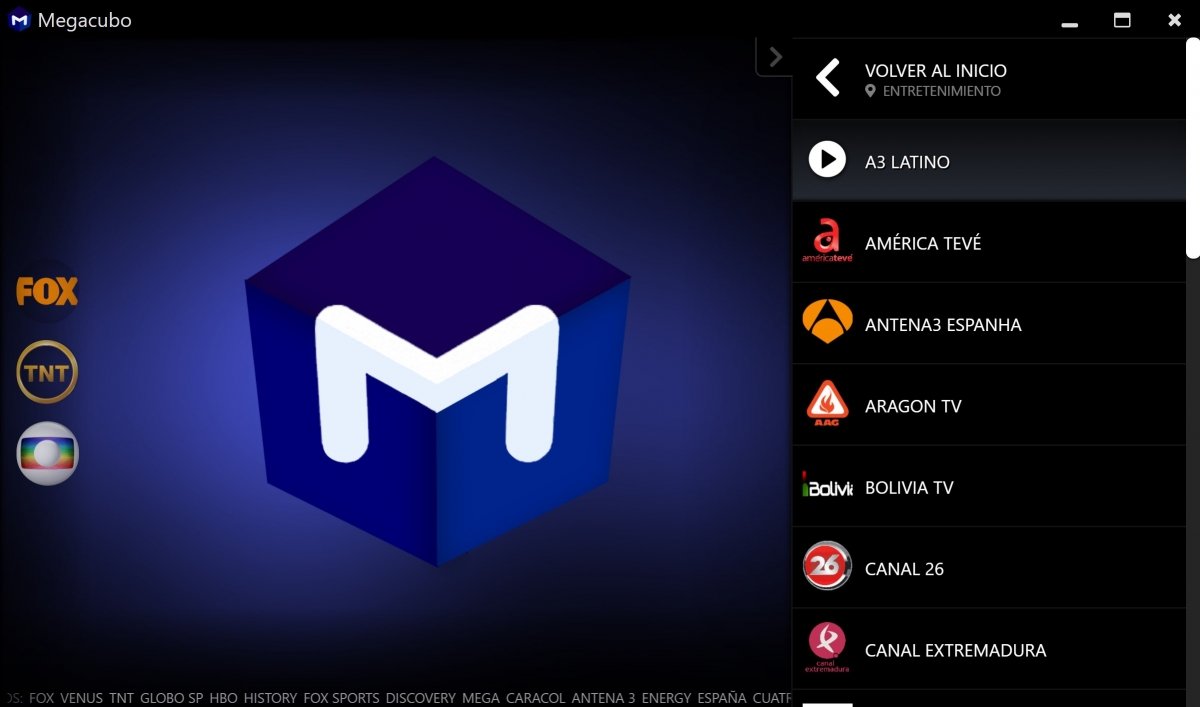 Some channels available in Megacubo for Windows
You just have to click on Auto Tuning to start enjoying video streaming that you have chosen. There are some interesting options, such as the reduced window in one corner of the screen when minimizing the program or the useful content recording functions.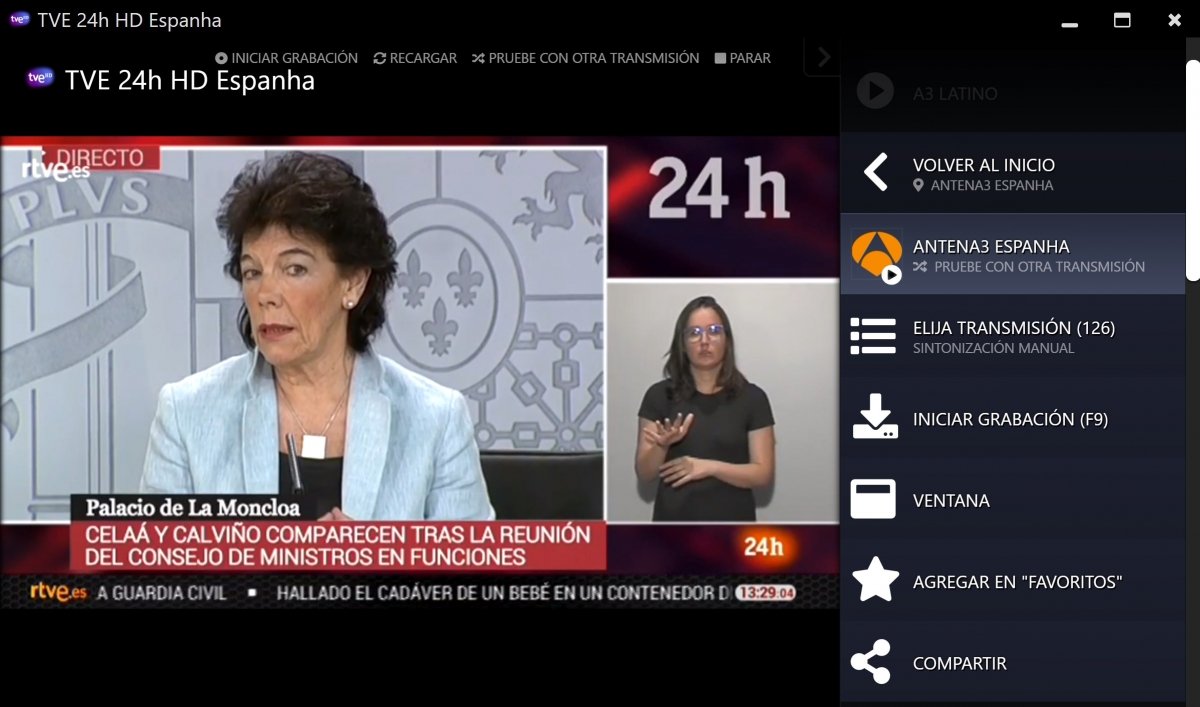 Broadcasting of TVE through Megacubo
ProgDVB, rudimentary but effective
This software is one of the ways simpler to watch TV and listen to radio over the Internet. The interface is not its strong point , but you will know why it is recommended as soon as you see the list of available channels. The first thing as always is to download the installer on your PC.
The installation of the software has absolutely no mystery and you will be able to open it as soon as it is completed from the same window to or with the desktop shortcut . On the left side you can see the available channels organized by country in folders, by clicking on each folder you access the corresponding list.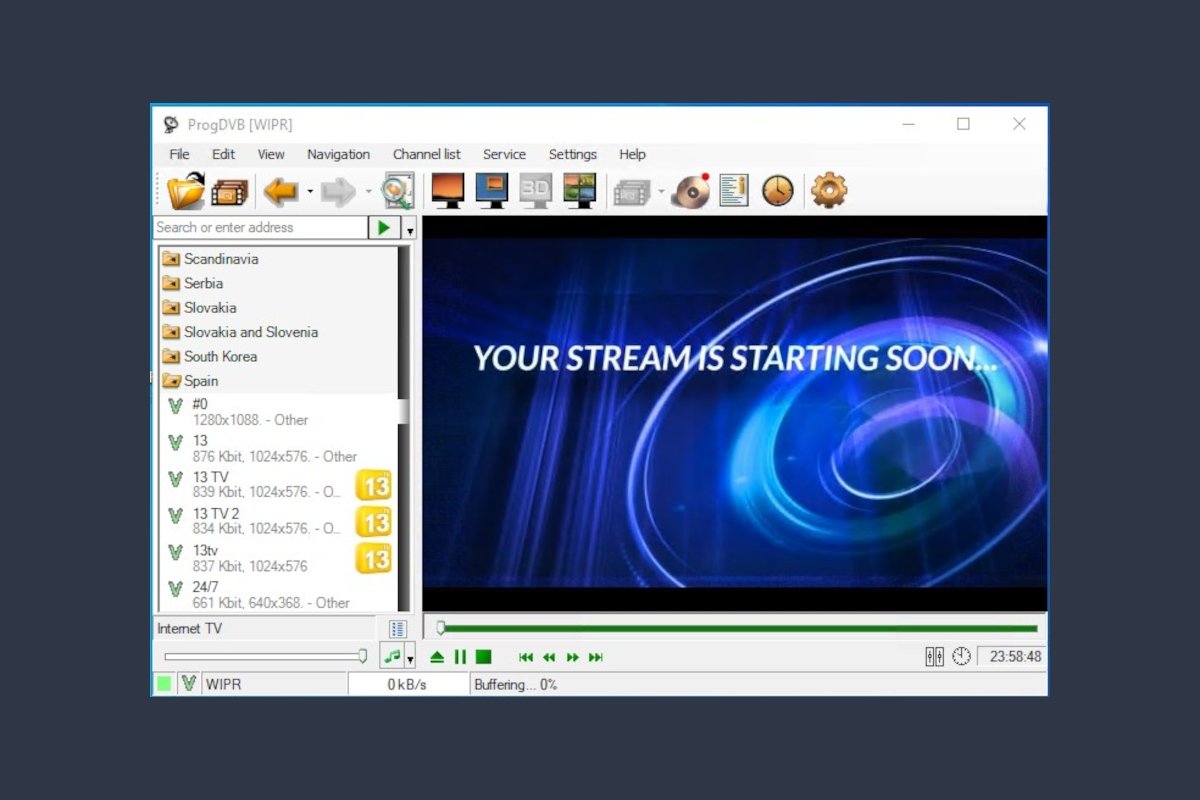 ProgDVB interface once opened
One more click and the content will be played in the window on the right, which of course you can expand to full screen to enjoy the broadcast as you would on a TV. Simple, fast and effective, if we add to it the large list of available TV channels, it becomes an option to take into account.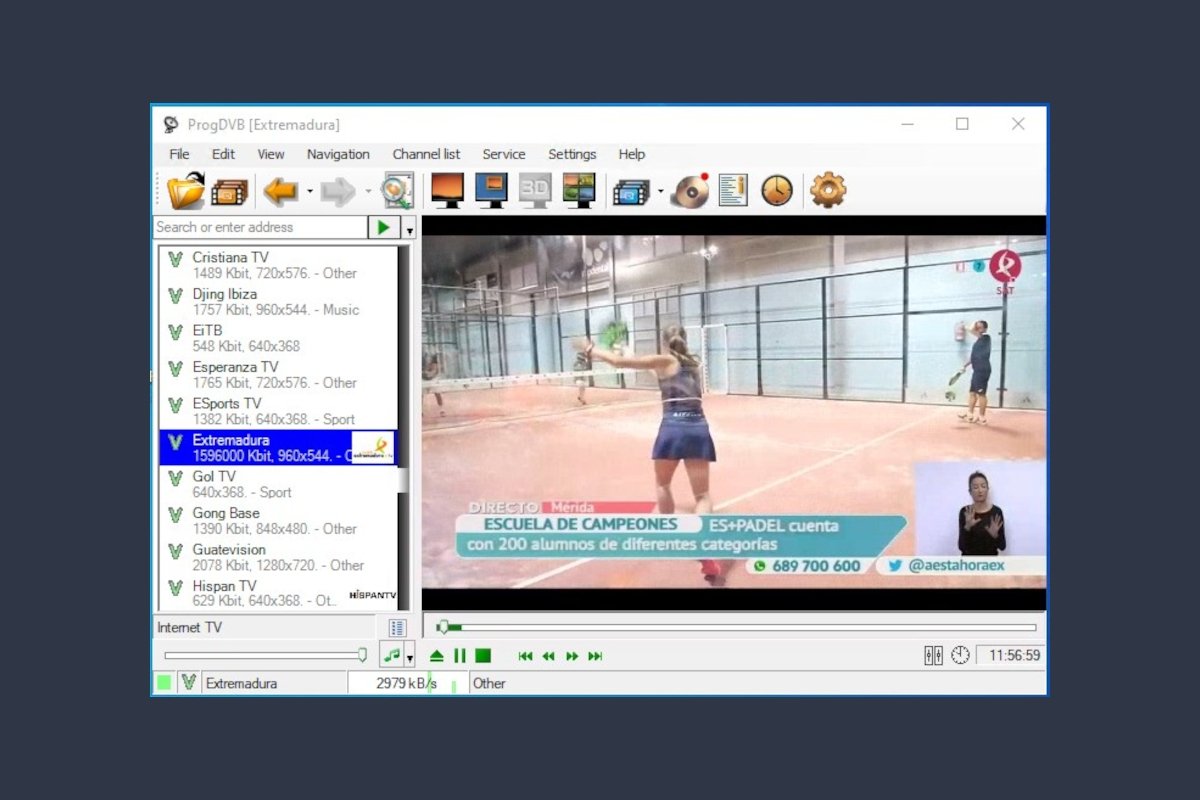 Broadcasting of a regional TV with ProgDVB
Tivify, the latest platform to join free TV
Tivify is an online TV platform launched in 2020 and that little by little is gaining followers. The platform began as a paid platform but recently they have added a free subscription that gives access to the broadcast of around 80 live channels . Among them, the DTT channels in Spain and also different regional, thematic (there are sports) or international channels. It is only necessary to register to be able to access the entire offer, which is also free of ads and does not diminish the resolution in the signal with respect to the payment program. Where's the catch?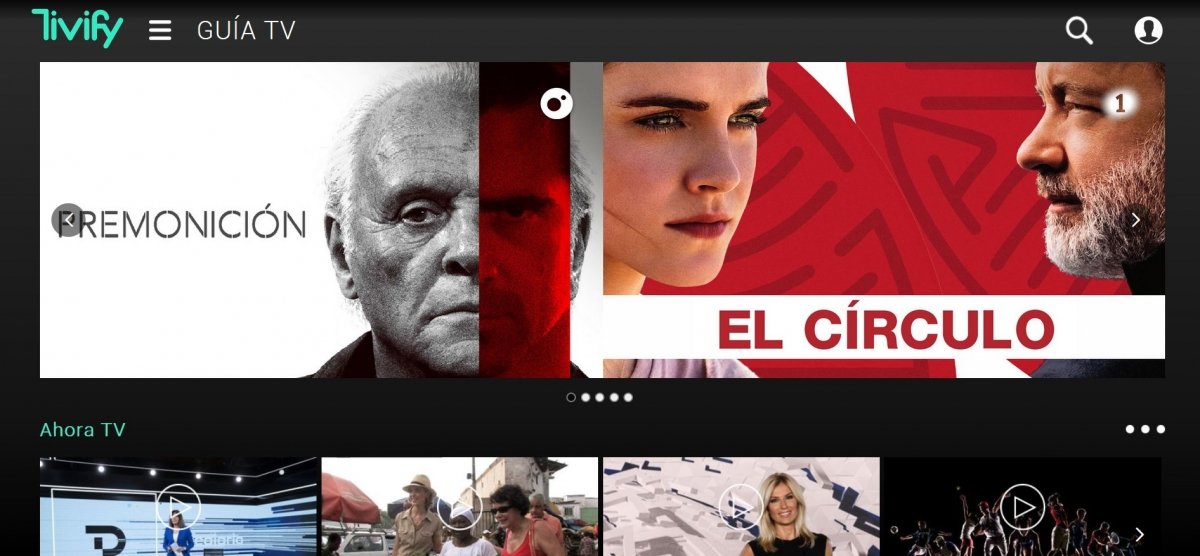 Home de Tivify
Well, in layering some extra functions offered such as the option to record the broadcast, which only It is offered in certain channels, has a limited time and also a reduced storage period or on devices that can use an account, three in the free version compared to 5 in the paid version, although only one can see the signal simultaneously. If that is what you are looking for, you will have to create a second user account.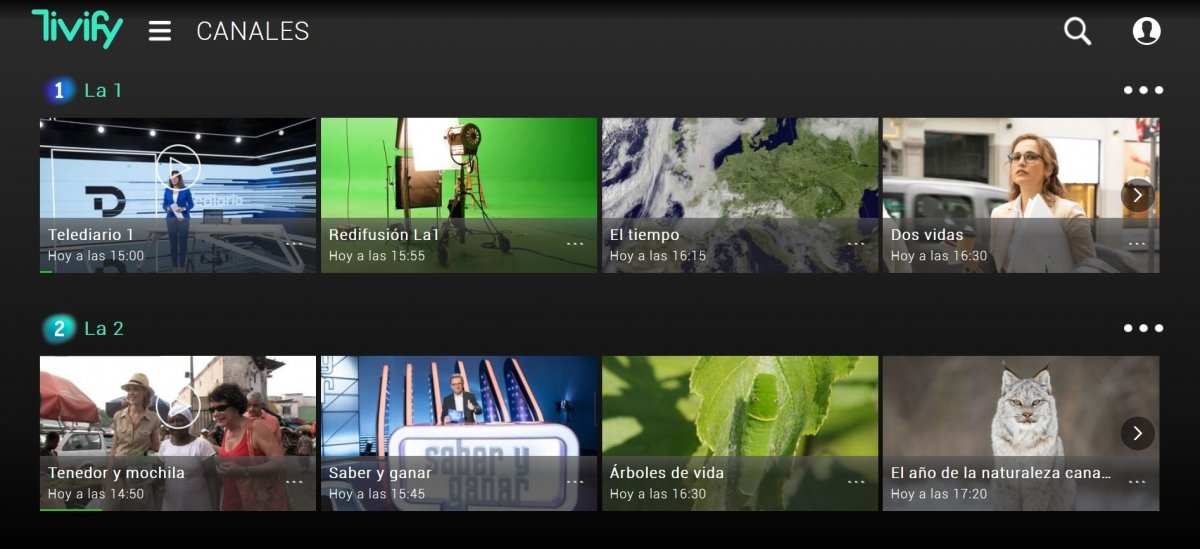 Tivify Channel List
In the case of PC just access the web through a browser to enjoy TV. In any case, the platform is also available in the form of an application for mobile devices. It also has dedicated applications for certain brands of Smart TV and is compatible with Chromecast or Fire TV.
TDTChannels: all open and legal TV via the Internet
Marc Vila is the person who pulls the strings behind the scenes at TDTChannels, a completely free online TV and radio platform where all open, free and legal available in Spain and in other countries under the same interface. The platform is accessible through its own mobile applications and what interests us most here, directly through its channel lists or its online version. Any of these last two options will help you if you want to watch TV on your PC.
Start by visiting the web. At first you will see the Online access button next to the options to download the apps. Click the corresponding button to go to the player itself.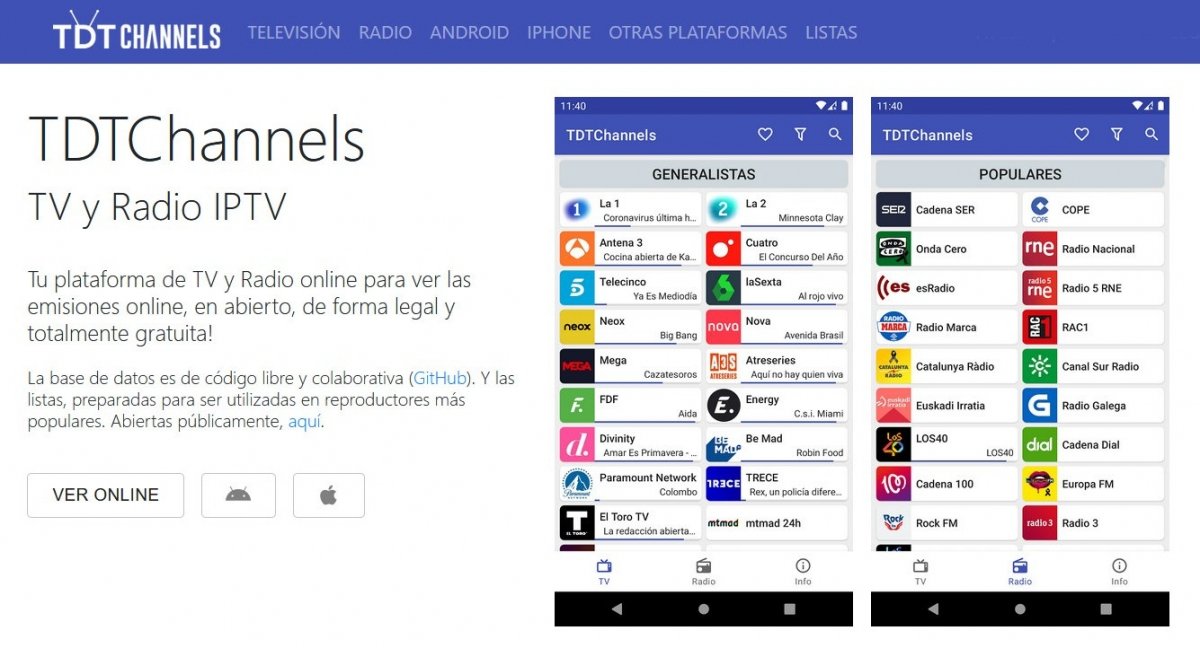 Online access to DTT Channels
On the left side are all available channels available, more than 600 at the time of including this alternative in the list. Just one click to start watching the signal: no ads (beyond those of the broadcast), no banners and no strange things, completely legitimate and without downloading anything, simply with your Internet connection.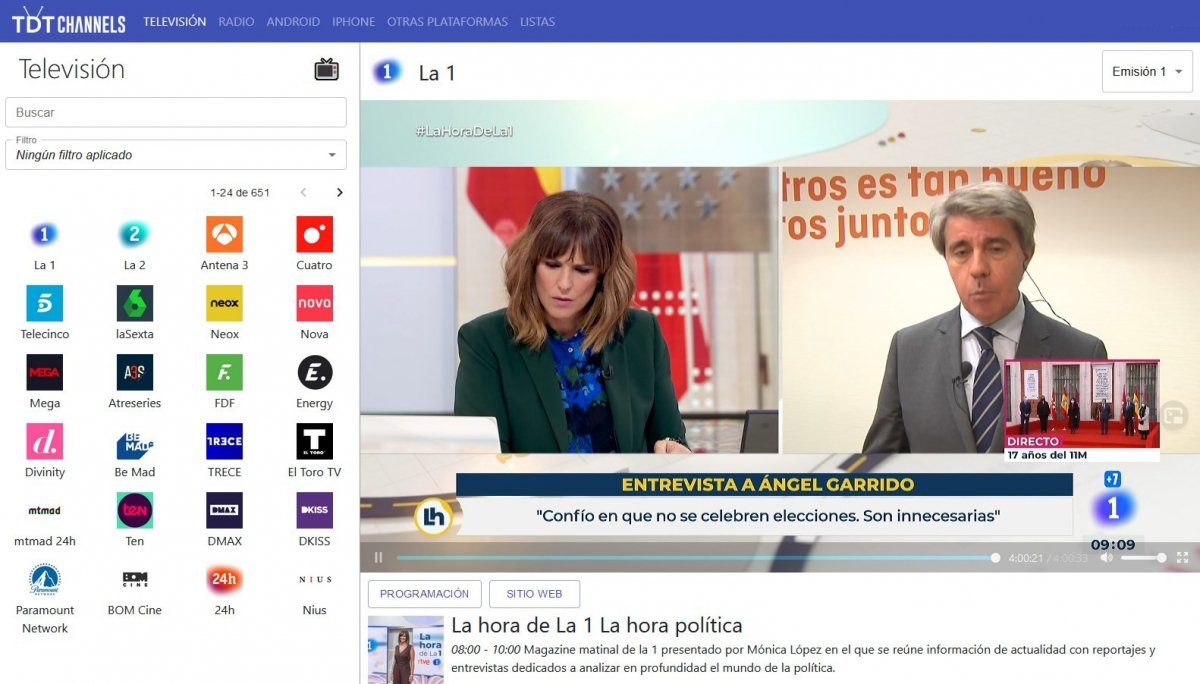 Issuance of La 1 by TDT Channels
Photocall.tv, the best website to watch TV
Photocall is an online directory of television signals of all kinds. At the top you can navigate between different tabs that give access to national, Spanish, international channels and others , where popular channels related to sporting or thematic events meet, for example.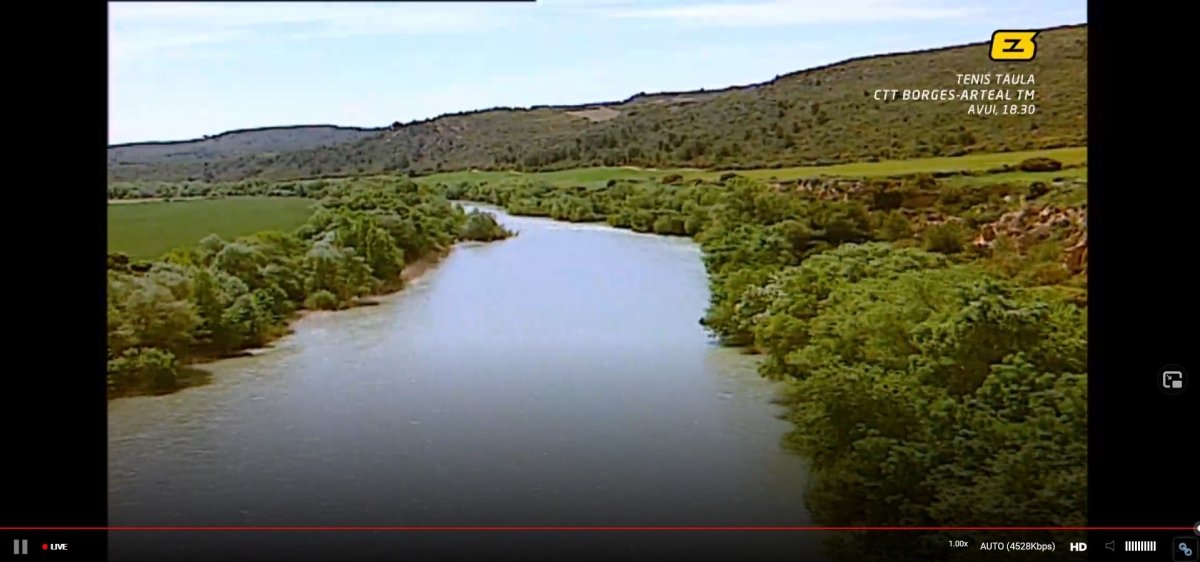 Channels available in Photocall
Most of the channels offer various links to access the broadcast, but as they are not an official service they do not There is no way to guarantee its 100% operation or to contact support at least easily. All you have to do is click on the corresponding icons, choose one of the available options and enjoy the content.
Broadcasting of a regional TV
There are also radio stations as well as some suggestive links to make your life easier with their use or to hire a VPN service. A good listener, few words are enough. It is almost certainly the best website right now to watch TV with permission from TDTChannels, more "limited" on offer.
Android emulators: the solution for mobile users

Another way you have to watch live TV with your PC is by using some Android app through an emulator , it will possibly be the preferred option for those who already watch live TV using their smartphone. In Android there is a really large list of apps that are used to watch TV but that do not have a version for Windows. On the other hand, there are emulators like BlueStacks that work wonderfully, it will be enough to combine both things and take advantage of their advantages also on the desktop of your PC.
Start by downloading any of the apps that you we offer for watch TV on Android . The list is quite extensive and is updated to only offer the ones that really work. Secondly, you will have to download BlueStacks for Windows, one of the most famous Android emulators for PC.
Install BlueStacks normally and run it. Once you are in its interface, look for the option Installed Applications to import APK files in the upper left corner. If you leave the mouse pointer over this option, a new pop-up menu will appear with the option Install APK . You just have to click on it to open Windows Explorer and you can locate the APK file of the app you have chosen.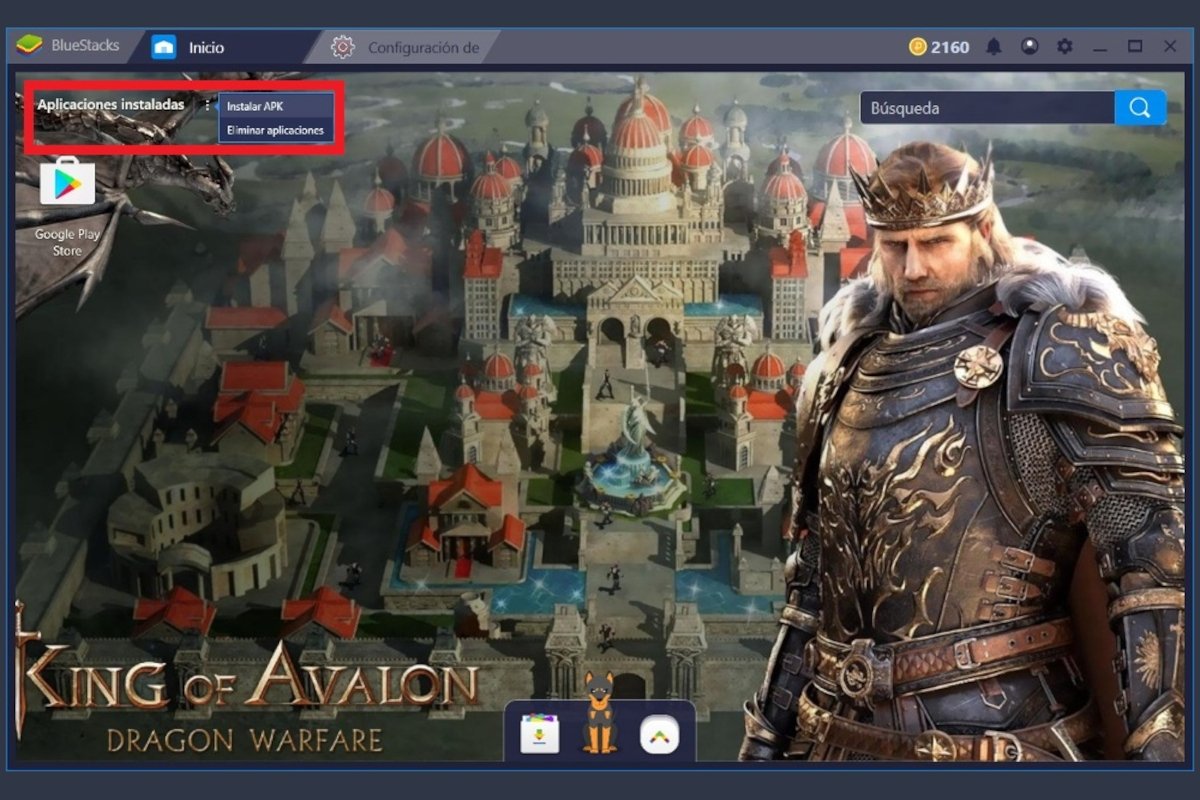 Installing an APK with BlueStacks
Another option is, with BlueStacks already installed in the operating system, download the APK file of the live TV app that interests you. As this file extension is associated with BlueStacks during installation, simply double-clicking on it will install it in the emulator.
After a few seconds you will have the icon of your new app on the desktop of the emulator. By clicking on it, you run the app in question that you have chosen. We have used You TV Player, so it is only necessary to register and browse the channel list.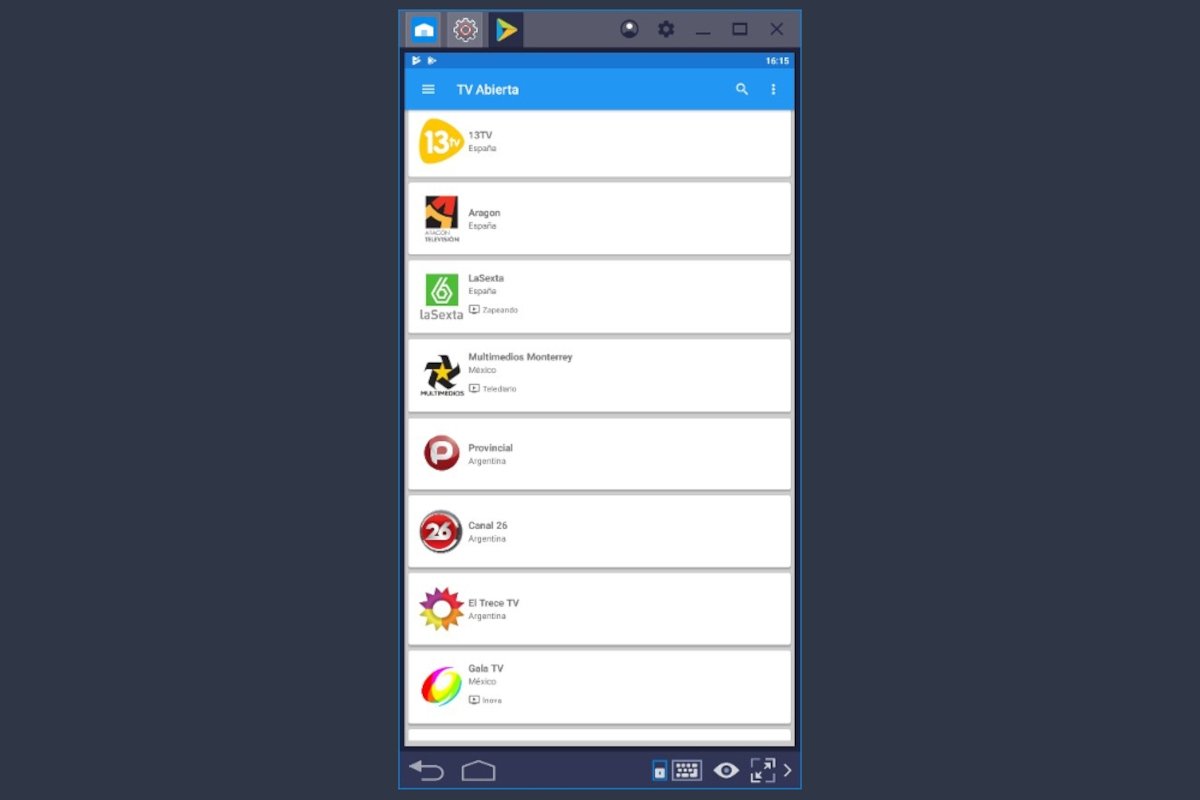 Channel List of You TV Player with BlueStacks
When you find the one you want to see, click on it, you will reach a previous window and, after pressing the classic Play icon, you will be able to enjoy the broadcast without any major problem.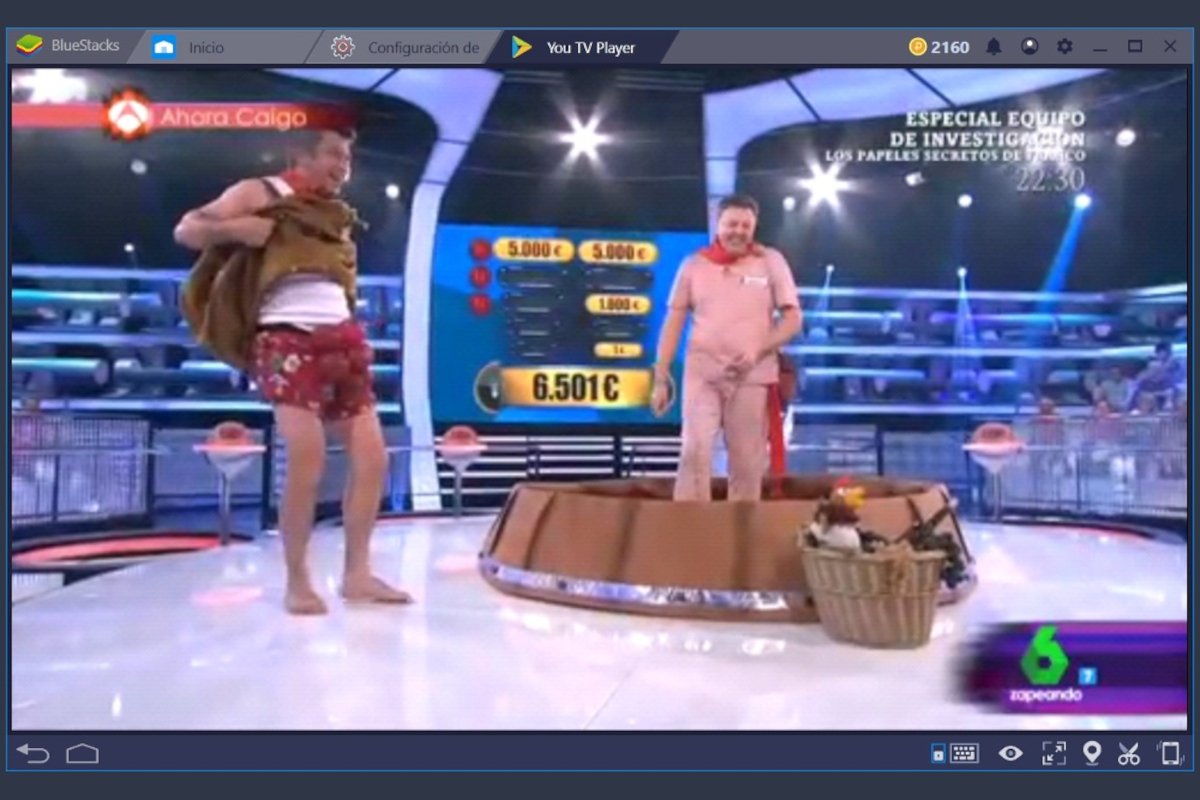 Watching LaSexta with You TV Player and BlueStacks
TVE, Mitele, Atresmedia … Easy DTT via browser
It is the fastest and most direct solution. A large number of channels available on DTT in Spain have web page where they broadcast the content in streaming . We are talking about RTVE and all the channels of the corporation, those of the Atresmedia group including LaSexta or the Mitele website, which is the platform where you can watch Tele 5, Cuatro and other Mediaset channels and that now thanks to the Plus package also offers the return of the live football. You also have the broadcast of channels of the AMC Networks group through its Microchannels platform, where you can find Canal Hollywood, AMC, Canal Cocina or Crimen e Investigación.
You also have all the web pages of the regional channels, which sometimes broadcast directly in streaming via YouTube. Net Television also offers Disney Channel and Paramount Channel online through the browser, Trece TV does it as well as Real Madrid TV. However, the Veo TV group that owns DMax, DKiss and Paramount Channel only offers content on demand. Here is another channel not yet available this way.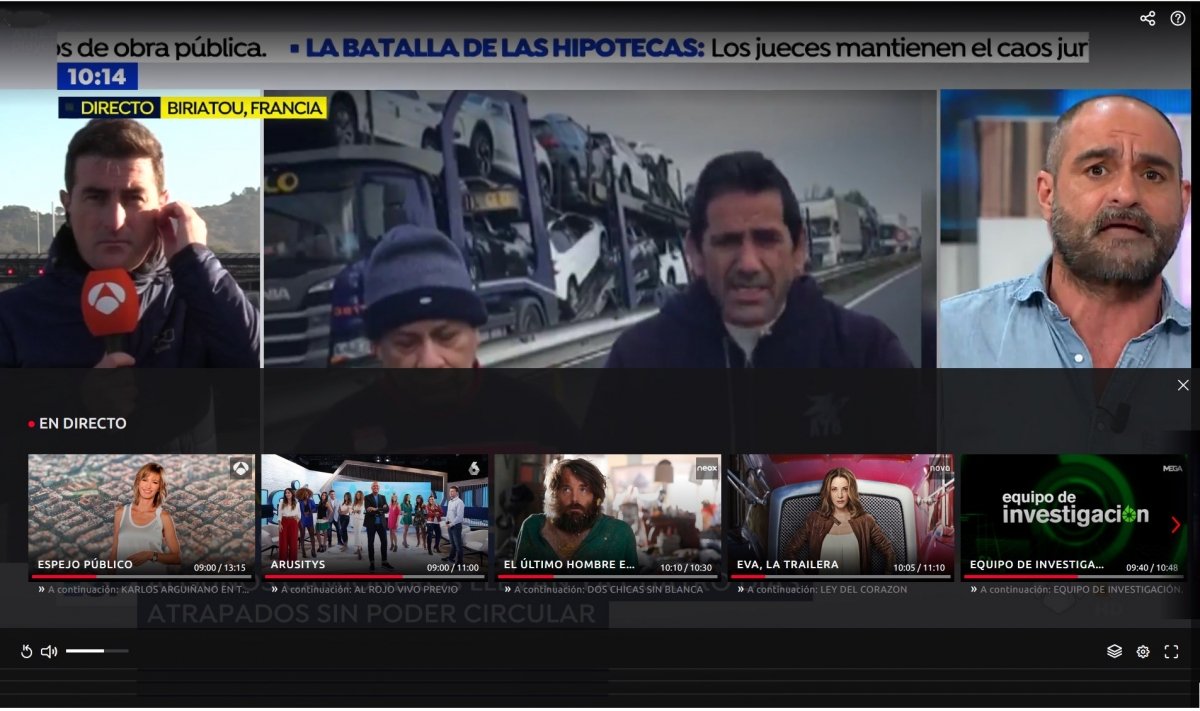 Antena 3 web broadcast
If we focus on the most important channels, accessing them is really easy. You simply have to visit their corresponding websites, there they offer you all kinds of content on demand and also the live broadcast .
AVOD Television: Pluto TV and Rakuten TV
One of the last options to watch TV over the Internet is on the so-called AVOD platforms ( advertising video on demand ) , which, as its name already suggests, offers TV with advertisements, yes, shorter than on traditional television. We are not talking about general channels or DTT to those who are used to it, but about a range of totally new channels that little by little are beginning to make their way into the Spanish market.
In the last Two of these new content platforms have arrived in Spain for months. First it was Pluto TV, which already has several dozen channels available with broadcasts in Spanish, and Rakuten TV will soon join it, until a time specialized in on-demand content but which has already announced the launch of up to 90 channels in the European market to enter this sector.
Pluto TV
Pluto TV offers up to more than 50 online TV channels , a large part of them exclusive and that you will only find here. It is perfectly accessible through its website. What's more, you only have to enter it to start watching the broadcast of a channel, because its home itself acts as a screen and by default you access live TV. No logs of any kind and no other concern.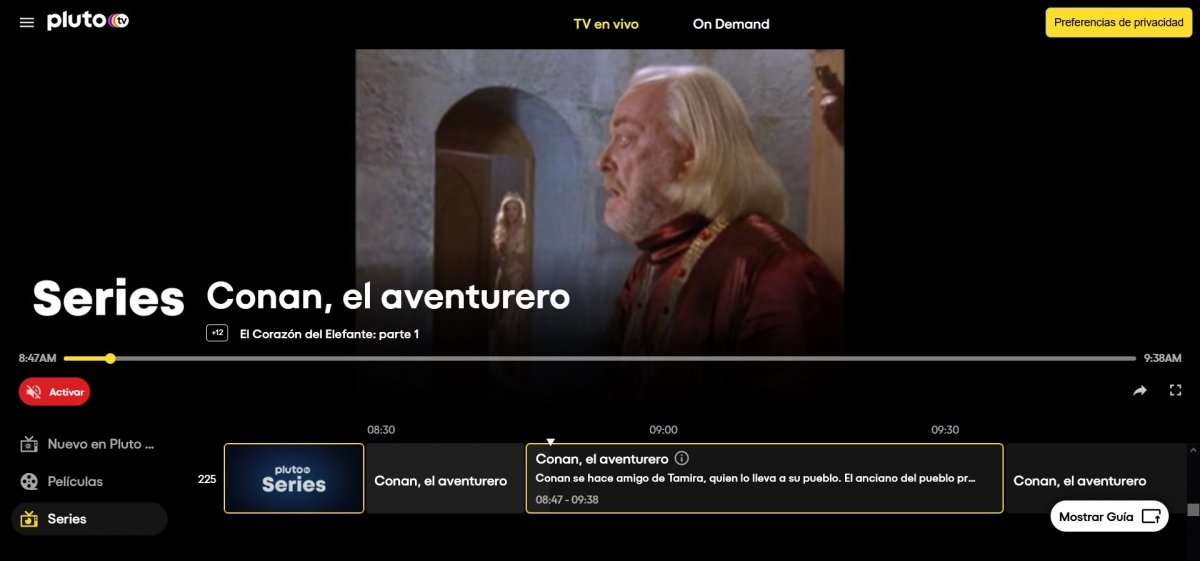 Pluto TV interface
If you display the broadcast guide you will be able to see all the channels and what they are broadcasting at that moment or will broadcast next, keeping a PiP (picture-in-picture) window in a corner of the screen with the tuned channel. A simple click on each content allows you to start playing the new channel. An extremely simple and fast online TV service that does not even offer the usual channels, but offers more completely free and varied. A glance through the side menu of the content guide gives a good example of the available categories, among which there is everything you can imagine.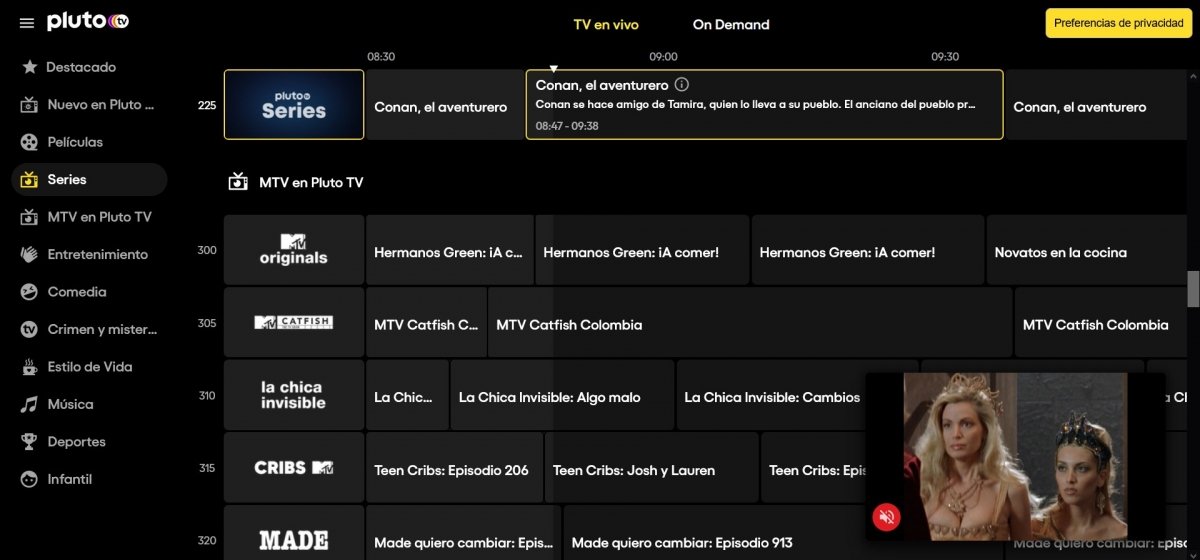 Pluto TV Channel Program Guide
If to that we add the video section under command with movies and series (still limited), we have a very interesting. It is also available on practically all operating systems, including the most popular Smart TVs: Android, iOS, Apple TV, Android TV or Amazon Fire TV.
Rakuten TV
Rakuten TV has been offering free on-demand content for several months (it already offered paid content before), mainly series and movies that could be enjoyed with a simple registration and the usual ads during streaming. Just a few days ago they also announced the arrival in Europe of a new linear online TV service with advertisements, following the same Pluto model. The service will arrive progressively (it is in beta phase) offering up to 90 channels progressively, although it must be taken into account that there may be restrictions for certain territories.
Rakuten TV interface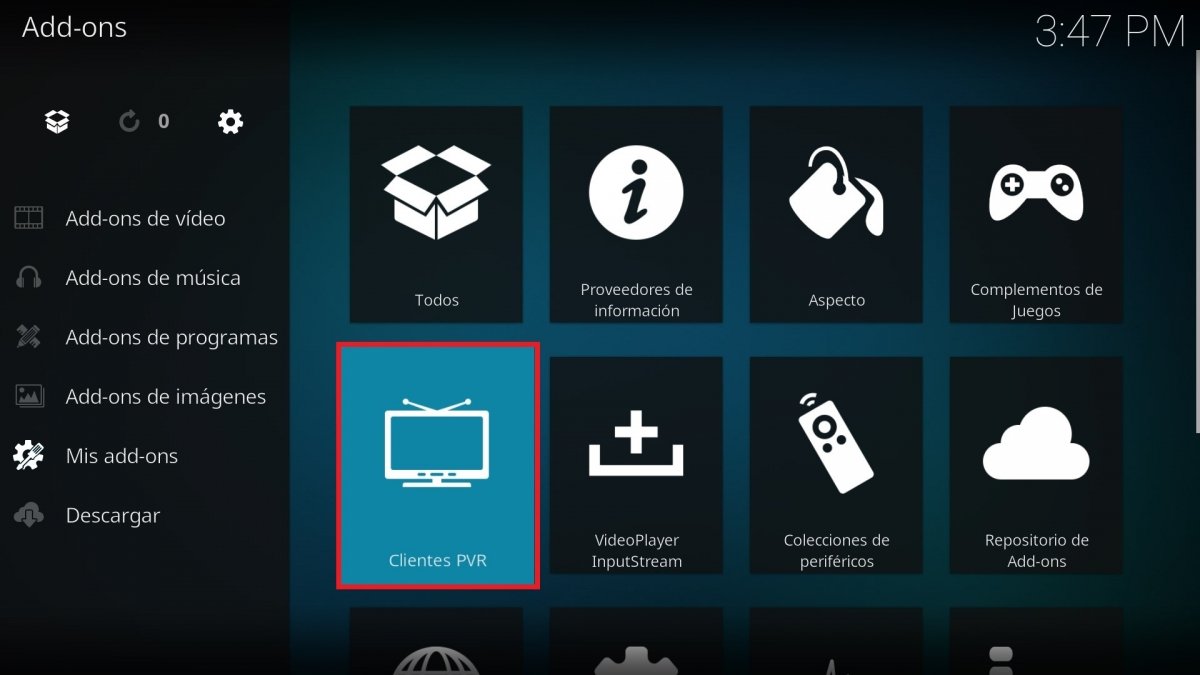 The service is also available in multiple operating systems, including the online version that will be the fastest way to watch TV on your PC with this platform or the most popular Smart TVs like Samsung's. At the moment in Spain only the video on demand service is available, but the arrival of TV channels is imminent. Among them, some with Spanish stamp and recognized international brands such as Bloomberg, Euronews or Reuters.