Huawei, despite the restrictions from the US government, returns with the Huawei Matepad 11 and shows that it is still alive and in fact very competitive. The MatePad 11 comes at a price of €499 and with it you will find its keyboard and pen.
It is officially the first device with the new Harmony OS of the company, apart from the Galaxy Watch 3 and 3 Pro, so it is very interesting to see what the new operating system brings, although we are already preparing a detailed article about it.
Let's see what Matepad 11 has to offer in more detail.
Design
The Huawei Matebook 11 is coming with plastic and glass construction for the facade. The plastic is of very good quality and can give the feeling that it is even metal, since its surface resembles an aluminum construction.
The screen frames are impressively thin despite the 11-inch screen, the overall dimensions remain small. The tablet has a very good feel in the hand and a comfortable grip, weighing just 485g, which is low for an 11-inch tablet.
The camera on the back protrudes, but the keyboard that comes with it is also a case, so the protrusion of the camera is reset fast.
Accessories
Like we said the Matepad 11 comes with a keyboard case and pen. The keyboard is very reminiscent of what we had in the Matepad Pro and gave us a very good typing experience, both for the quality keys and for the distances between the keys. The keyboard is rigid enough to be comfortable to use even when we have it on our feet.
The keyboard sticks magnetically to the tablet and gets inductive current from it, so you never run out of battery in it and do not need extra charge. The keyboard sticks to the tablet with very strong magnets, keeping it very stable during use. The keyboard is also a very high quality case, whose hard surfaces protect the tablet very well.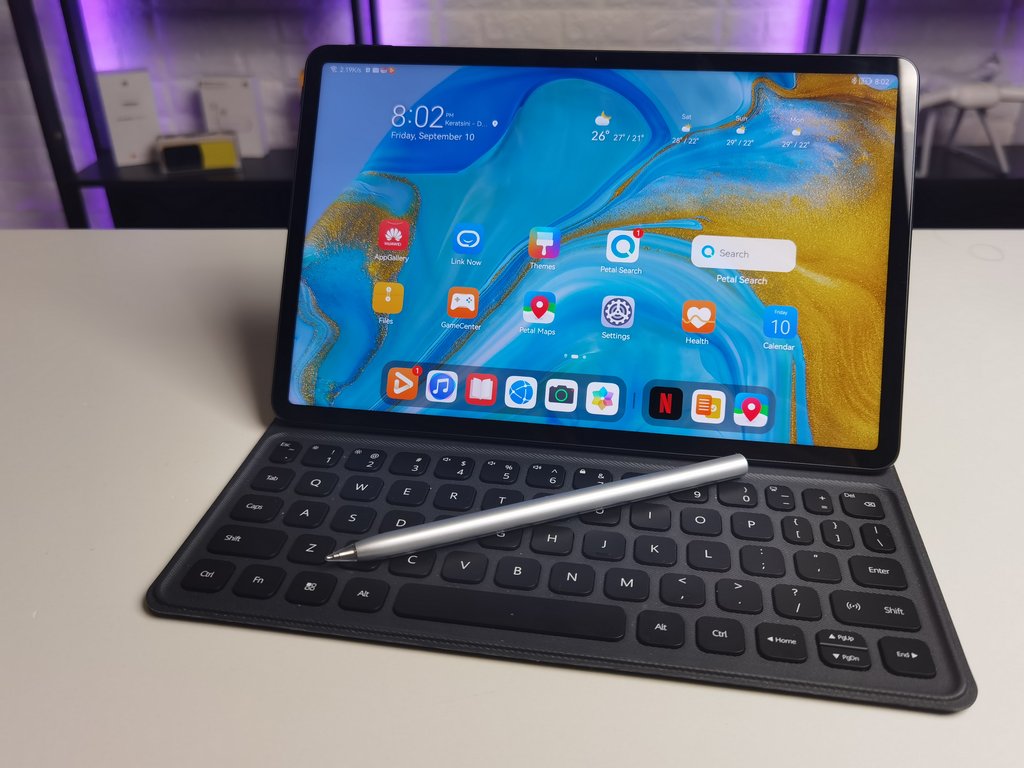 We will have the new M-Pencil with us , which comes with a very fast response when writing and is very reminiscent of real pen writing. Now it has the ability to switch from writing to erasing, simply with a double tap where we have our index finger. It also sticks magnetically to the top of the tablet, next to the volume rocker, where it charges inductively. Its autonomy is very large, so we do not need to charge it, even after 2 hours of painting, while its charging is quite fast.